Climate Change Blamed In Mysterious Mass Elephant Deaths In Botswana
KEY POINTS
Scientists concluded mass elephant deaths in Botswana was due to cyanobacteria
Cyanobacteria are organisms that enjoy high temperatures
Despite scientific explanation, conservationists were reluctant to cross out human intervention
Scientists concluded that the mysterious deaths of as many as 330 elephants in Botswana was another impact of climate change. Specifically, the experts pointed to cyanobacteria which is a naturally occurring neurotoxin and biological phenomenon that multiply hastily due to rising temperatures.
The deaths were first recorded in May with the international media picking up the news in July. Within the following months, experts gathered and studied samples from carcasses and the surrounding waterholes and soil from where the elephants were found. They also analyzed samples from live animals within the area to acquire a better comparison and arrived at a more sound conclusion. African experts also sought the help of their counterparts from laboratories in the United States, Canada and Europe.
"Our latest tests have detected cyanobacterial neurotoxins to be the cause of deaths. These are anaerobic bacteria found in the water of seasonal water pans," Mmadi Reuben said in one interview. Reuben is the principal veterinary officer at Botswana's Department of Wildlife and National Parks.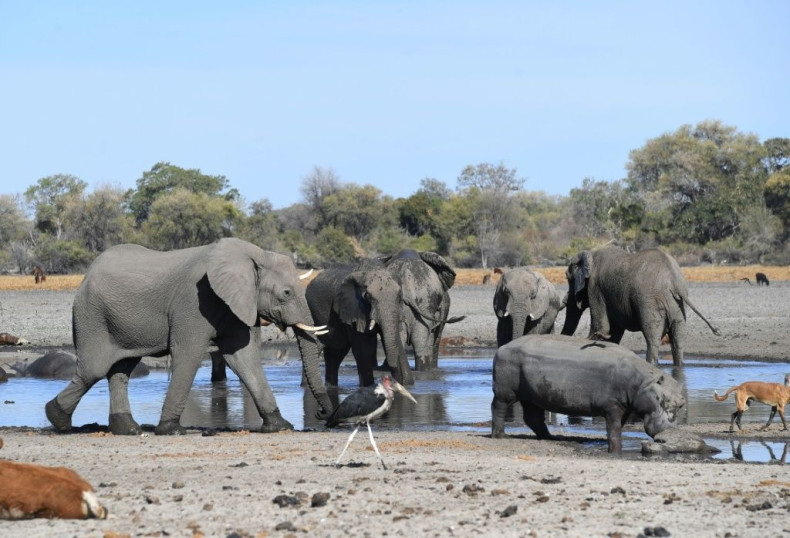 Reuben explained that the mysterious deaths stopped in late June — the start of the Fall season in Botswana. The occurrence meant the seasonal waterholes where the cyanobacteria developed have dried up, making a strong case that the deaths were connected to hot weather conditions.
Cyanobacteria are also known as blue-green algae. This single-cell organism clumped together, creating an expansive bed of algae on water surfaces. According to a 2008 study published in the journal Global Change Biology, the toxic cyanobacteria attack the nervous system, damaging the skin and liver of animals altogether. In fact, the study noted that the organism was responsible for some notable mass deaths of fishes and birds in the past.
Scientists linked the growth of cyanobacteria in Botswana to climate change because the organism uses photosynthesis to make food. High temperatures and persistent heat waves due to climate change mean cyanobacteria can multiply twice compared to the normal rate.
The mass elephant deaths in Botswana made it to international headlines because the carcasses were found close to Okavango Delta, a popular tourist safari destination. Witnesses said that they saw the elephants circling the area, seemingly dizzy before finally falling to the ground lifeless. According to the International Union for Conservation of Nature's Red List, 10% of the country's vulnerable species reside in the Okavango Delta.
Even with the explanations from scientists, doubts from conservationists continued. Controversy still lingers since there were no other animal species that died due to cyanobacteria, except only for a single horse.
One of those conversationalists who voiced doubts was Keith Lindsay, conservation biologist and environmental consultant at the EMS Foundation. The biologist maintained that human involvement should still be under consideration.
"If it's in waterholes or was in waterholes, why was it only elephants that were affected?" Lindsay told CNN, making a strong case that experts should not rule out human intervention for the mass elephant deaths in Botswana.
© Copyright IBTimes 2022. All rights reserved.