Climate Change 'Countermovement' Funded By 'Dark Money,' Conservative Donors Spend Billions To Derail Regulation Efforts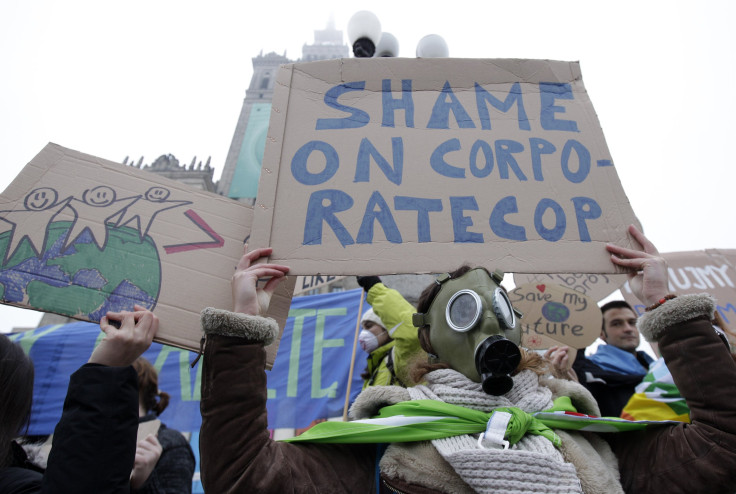 Conservative donors are driving the climate change "countermovement" by pumping billions of dollars into organizations that actively try to derail efforts to curb global warming, according to new analysis of the financial structure that maintains the denial effort.
The study, conducted by Robert Brulle, an environmental sociologist at Drexel University in Philadelphia, was published Friday in the journal Climate Change. His investigation exposed the vast network of conservative think tanks, foundations, trade associations and advocacy groups that work to undermine public faith in climate change. He found that donors spend $1 billion a year to fight climate change policy, including U.S. government regulations that would limit carbon emissions.
"I call it the climate-change counter movement," Brulle told the Guardian. "It is not just a couple of rogue individuals doing this. This is a large-scale political effort."
While Brulle notes that the anti-climate change movement is still largely bankrolled by a handful of conservative billionaires, the bulk of donations are "dark money," collected from funders who conceal their contributions by going through third-party foundations like Donors Trust and Donors Capital. The report found that 91 think tanks and industry groups make up the bulk of the climate change opposition movement. Among them are Searle Freedom Trust, the John William Pope Foundation, the Howard Charitable Foundation and the Sarah Scaife Foundation.
From 2003 to 2010, the organizations raked in $7 billion, or about $900 million a year.
The majority of the organizations were registered as charitable organizations, meaning they benefited from substantial tax breaks. As Think Progress noted, "Their efforts cover a range of activities, from lobbying to political contributions to media campaigns that attempt to discredit the scientific consensus around global warming."
One caveat to keep in mind is that many of these organizations serve multiple purposes, meaning not all of the money they take in goes toward discrediting climate change science. But Brulle says what contribution they do make is enough to slow down any progress we're making toward climate change regulations.
"The climate change countermovement has had a real political and ecological impact on the failure of the world to act on the issue of global warming," Brulle said in a statement. "This is how wealthy individuals or corporations translate their economic power into political and cultural power. They have their profits and they hire people to write books that say climate change is not real. They hear people to go on TV and say climate change is not real. It ends up that people without economic power don't have the same size voice as the people who have economic power, and so it ends up distorting democracy."
© Copyright IBTimes 2023. All rights reserved.