Climate Change Poses National-Security Threat: Panetta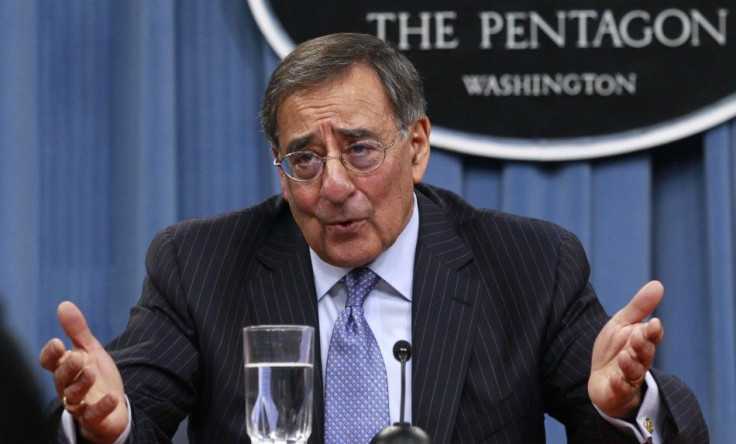 Climate change could affect national security by spurring conflict over resources and producing more natural disasters, U.S. Defense Secretary Leon Panetta told a prominent environmental group.
At a reception hosted by the Environmental Defense Fund on Wednesday, Panetta said the military will need to adapt to the implications of a shifting climate, contending there are environmental threats which constitute threats to our national security.
For example, the area of climate change has a dramatic impact on national security: rising sea levels, to severe droughts, to the melting of the polar caps, to more frequent and devastating natural disasters all raise demand for humanitarian assistance and disaster relief, Panetta said.
Panetta cited the possibility of nations making competing claims to regions exposed by the melting of polar ice caps. Several countries have already begun stepping up military excercises in the Arctic region in a possible precursor to more jostling over sea lanes and resources.
Competition over energy could also become more intense, Panetta said, with implications that range from the destabilizing consequences of resource competition to the efforts of potential adversaries to block the free flow of energy.
Similarly, one U.S. intelligence report concluded that water shortages could increasingly be a source of strife in coming years, particularly in developing countries or in states with weak governing institutions.
The water crisis is a health crisis, it's a farming crisis, it's an economic crisis, it's a climate crisis, and, increasingly, it is a political crisis, U.S. Secretary of State Hilary Clinton said in a speech coinciding with the intelligence report's release in March. And therefore, we must have an equally comprehensive response.
A study by the research group Climate Central predicted that gradually rising sea levels will put low-lying coastal cities in the U.S. at risk, adding to warnings that climbing temperatures could become costly and undermine public safety.
Panetta touted the military's efforts to begin using more energy-efficient vehicles and bases, saying the Pentagon is focused on becoming more efficient and environmentally sustainable. He added that investments in alternative energy were in part a response to budget shortfalls.
We now face a budget shortfall exceeding $3 billion because of higher-than-expected fuel costs this year, Panetta said. I have more than a deep interest in more sustainable and efficient energy options.
© Copyright IBTimes 2023. All rights reserved.