Clint Eastwood And Harrison Ford To Join Cast Of 'The Expendables 3'? Producer Shares High Hopes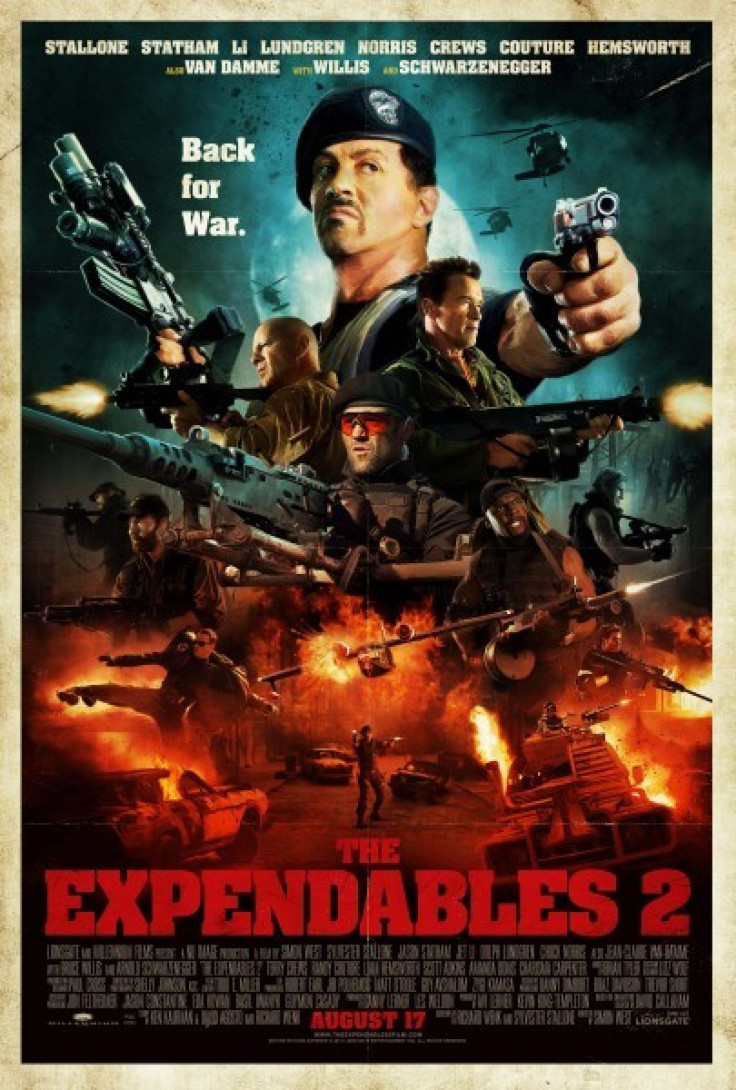 "The Expendables 2" hasn't hit theaters yet, but producer Avi Lerner seems confident that the film will be a hit. He's already developing a follow up to the ensemble action film, which hits theaters Friday.
Despite heavy competition from "The Dark Knight" and "The Bourne Legacy," the highly anticipated "Expendables 2" will likely hold strong at the box office.
In 2010, "The Expendables" raked in a whopping $270 million worldwide. Much of the film's cast, which was a major part of its commercial appeal, has returned for the sequel: Sylvester Stallone, Jason Statham, Jean-Claude van Damme, Bruce Willis, Chuck Norris, and Arnold Schwarzenegger all signed on.
In a recent interview, Lerner said he hopes to add Clint Eastwood, Harrison Ford and Wesley Snipes (who's currently in prison for tax evasion) to the already oversized cast.
"We've approached Clint Eastwood to be one of the guys, we've got a character in mind for him," he told Total Film. "We're talking to Harrison Ford. [And we want] Wesley Snipes when he comes back from prison. I'll give you one more name, we've got Nicolas Cage to play [one of the characters]."
Surprisingly, Lerner also mentioned the possibility of Mickey Rourke, who appears in the first film but not the sequel, returning -- provided he behaves himself.
"And we're going to bring Mickey Rourke back, if he won't be too crazy. I like Mickey. And of course, all the existing stars [will return]."
Rourke was initially set appear in "The Expendables 2" but dropped out to star in "Seven Psychopaths." According to Wenn News, low pay was also a factor in the actor's decision. In a 2008 Los Angeles Times profile on the star, it's noted that he frequently butts heads with directors, which might explain Lerner's concern.
Indie Wire's Kevin Jagernauth thinks Lemer's casting prospects are somewhat unrealistic.
"Yeah, good luck getting Eastwood and Ford, but we suppose a man can dream," said Jagermauth. "As for Cage, we're not surprised since he seems to sign on to anything these days, and presuming Snipes' ego is humbled after his stint in jail, this is probably as good a project as any with which to get his mojo back."
"Because Sylvester Stallone realized his career was in its twilight years, he created a new niche for himself," joked The Blemish. Old action icons in new action movies. He called it 'The Expendables' and 'The Expendables 2.' It's been mildly successful. At least it seems so as he's planning on making a third film. This time with more old people.
Sean O'Connell of Screen Crush believes that there's an action star missing from the line-up.
"Actually, there's one more name I'd like to see on this list. Mel Gibson. He's an action icon. He could use a PR boost. And he'd out-crazy even Rourke. Sign the 'Lethal Weapon,' and a third 'Expendables' could be the biggest action movie the world will ever see."
© Copyright IBTimes 2023. All rights reserved.