Clinton 2014 Midterm Elections: 'Nobody Believes' Economy Is Coming Back 'Because You Don't Feel It'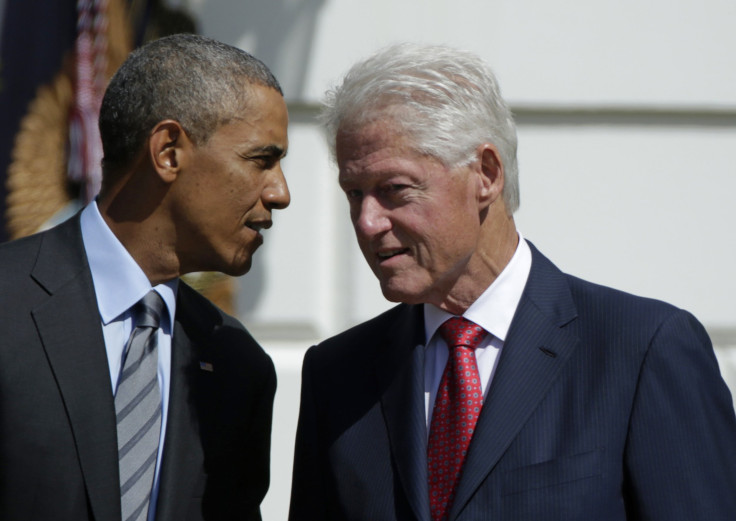 Former President Bill Clinton said the 2009 global recession could take roughly four more years to run its course. While campaigning for Democratic U.S. Sen. Mark Pryor in his home state of Arkansas on Monday, Clinton assured voters that the economy is rebounding and asked Democrats to be patient when they cast their ballots in November for the 2014 midterm elections.
"They are really running against the president, aren't they?" Clinton said of Republican candidates. "They see these polls, the president is unpopular in Arkansas and, yeah, the economy is coming back but nobody believes it yet because you don't feel it."
Clinton's remarks come as his wife, former Secretary of State Hillary Clinton, is weighing a potential 2016 presidential bid. "Financial crises take an average of 10 years to get over," Clinton said during the campaign speech. "We just crossed over and we're now creating more jobs above where we were before the crash. Six years, four years ahead of the global average for 150 years we're doing better than that. I don't expect anybody to vote on it or be happy because middle-class incomes haven't risen, the average family is making less adjusted for inflation than they were the day I left office. But I am telling you the truth, we are coming back."
Clinton has been campaigning for Democrats in Arkansas, where President Barack Obama has low approval ratings. Obama has acknowledged that his declining popularity could hurt Democrats trying to retain control of the U.S. Senate and take back the U.S. House in November. He said recently of the 2014 midterm elections: "I am not on the ballot this fall. Michelle's pretty happy about that. But make no mistake: These policies are on the ballot. Every single one of them."
Under Obama, unemployment has fallen from a high of 10 percent in 2009 to 6.1 percent. But a recent Politico poll found nearly one-third of Americans said their personal financial affairs are worse than they were a year ago. Only 26 percent said they had improved.
© Copyright IBTimes 2022. All rights reserved.
FOLLOW MORE IBT NEWS ON THE BELOW CHANNELS