Clinton Blasts Russia, China Over UN Vetoes On Syria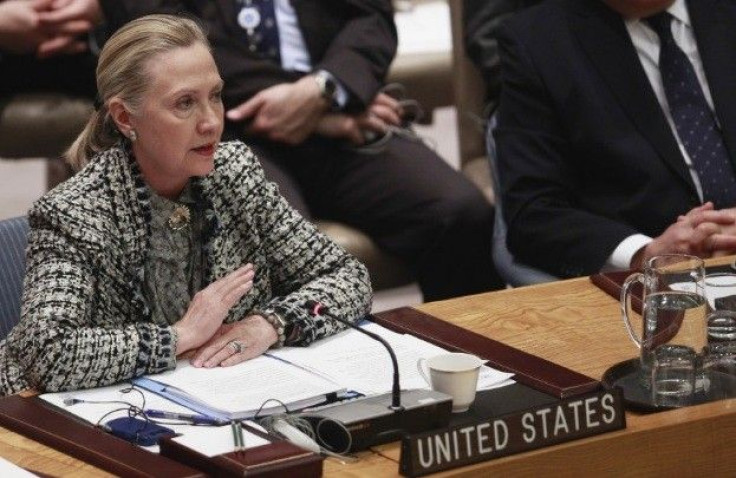 United Nations Secretary General Ban Ki-moon and U.S. Secretary of State Hillary Clinton urged the international community Monday to join forces in condemning the violence in Syria.
In a thinly veiled attack on Russia and China, which vetoed two previous Security Council resolutions against Bashar al-Assad, Clinton urged all countries to speak with one voice in demanding an end to the Syrian president's bloody crackdown on dissidents.
We believe that now is the time for all nations -- even those who have previously blocked our efforts -- to stand behind the humanitarian and political approach spelled out by the Arab League, she said at U.N. headquarters in New York. Clinton called on the world's nations to say with one voice -- without hesitation or caveat -- that the killing of innocent Syrians must stop and a political transition must begin.
Her comments followed those of Moon, who said Syria's government has failed to fulfill its responsibility to protect its own people and instead has subjected its citizens in several cities to military assault and disproportionate use of force.
Over the weekend, dozens of civilians, including women and children, were reported killed in the formerly besieged city of Homs. The main rebel group said the victims had been massacred.
Rebels and the Assad government blame each other for the killing of women and children in Homs and other cities, from which has emerged video footage of blood-soaked, mutilated corpses.
According to activists from the Local Coordination Committees of Syria, at least 45 women and children have been stabbed and burned in the Homs district of Karm al-Zeitoun, while several others were slain near the city's former rebel bastion of Babr Amr.
International pressure has been growing on Russia and China to agree to a binding Security Council resolution calling for Assad's removal and access of humanitarian workers into needy areas.
After Monday's U.N. meeting, Russia's Foreign Minister Sergei Lavrov warned global leaders that any change in the Arab world must not be achieved by misleading the international community or manipulating the Security Council, according to the BBC.
The founding fathers of the U.N. decided that unless the permanent members agreed on something, decisions could not be sustainable. Let's try to be respectful of each other and each other's positions, Lavrov said.
The Security Council's five permanent members are Russia, China, the United States, Britain and France.
© Copyright IBTimes 2023. All rights reserved.