Clinton Visits East Timor, Asia's Newest, And Most Obscure, Democracy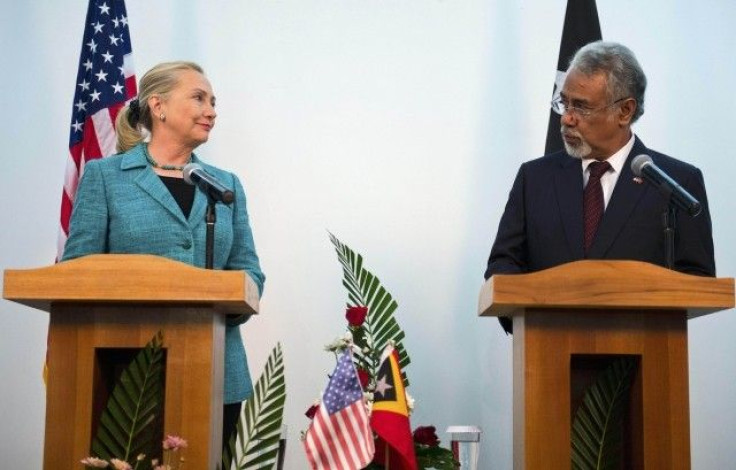 U.S. Secretary of State Hilary Clinton was in the Democratic Republic of Timor-Leste, otherwise known as East Timor, for half a day on Thursday as part of her 11-day tour of the South Pacific and East Asia.
She met with both the Prime Minister and the President of the small democracy as a show of support for its progress in the decade since it declared its independence from Indonesia. The official goal of the visit, according to the State Department, was to "emphasize U.S. support for the young democracy of Timor-Leste."
Clinton is the first U.S. secretary of state to visit East Timor, as Prime Minister Xanana Gusmao noted in his remarks.
Gusmao also called Clinton "an inspiration," and said that the U.S. has been "a steadfast supporter of Timor-Leste and our development."
Clinton, for her part, said that the U.S. was "proud to stand with [East Timor] during your struggle for independence, and we are standing with you as you work to build a strong democracy."
East Timor is Asia's youngest nation, and one of the poorest. The country, which has only been independent since 2002, takes up about half of the island of Timor on the extreme eastern end of the Indonesia archipelago, and is a little less than 6,000 sq miles. in area.
With a population of a little more than 1 million, the East Timorese are primarily Austronesian (Malayo-Polynesian) or Papuan. Due to the long period of Portuguese occupation, Timorese are overwhelmingly Roman Catholic.
It has a GDP of $9.6 billion, ranking it 153rd in the whole world. Its economy is mostly agrarian -- one of its main exports is coffee, and one of the biggest buyers of East Timorese coffee is Starbucks.
Unemployment in the tiny nation runs at about 20 percent, while more than 40 percent live below the poverty line.
East Timor's history, like many small poor countries, is one of colonization and conflict. A Portuguese trading outpost and colony for 400 years, Timor-Leste was occupied by the Japanese during WWII, and became the scene of a guerilla war between the Japanese army and the Allies' "Sparrow Force" from Australia.
The fighting left between 40,000 and 70,000 native and Portuguese civilians dead.
In the mid-1970's, when the Portuguese began to de-colonize, a civil war broke out between two rival political parties ­? the right-wing Timorese Democratic Union (UDT), and the left-wing Revolutionary Front for an Independent east Timor (Fretilin) -- when the UDT staged a coup against the Portuguese administration. The three-month war left between 2,000 and 3,000 people dead, resulting in the Fretilin taking control of the country.
In December 1975, Indonesian forces invaded East Timor, in an attempt to wrest power away from Fretilin. Between 50,000 and 80,000 Timorese were dead by March 1976.
After 20 more years of Indonesian rule, and skirmishes, abuses, and arrests of various Timorese political leaders, Indonesia finally withdrew in 1999, and the United Nations established a transitional administration until May 20, 2002, when East Timor finally claimed independence.
East Timor has held two largely peaceful presidential and parliamentary elections since 2002. The U.S. has sent four observer missions to oversee the elections.
In her remarks, Secretary Clinton congratulated Prime Minister Gusmao on, "a peaceful transfer of power to the new President, government, and parliament. I told the Prime Minister there are many nations much older than this one who cannot credibly say they have conducted elections that are as free, fair, and credible as yours."
East Timor also submitted an application in March 2011 to become the 11th member of the Association of Southeast Asian Nations (ASEAN), the culmination of a goal that the government announced when East Timor declared its independence in 2002.
East Timor sent representatives to the November 2011 ASEAN summit in Jakarta, Indonesia, and by all accounts, Indonesia has welcomed the idea of having East Timor join ASEAN.
© Copyright IBTimes 2023. All rights reserved.