Coal Companies That Lobbied To Repeal West Virginia Mining Regulations Accused Of Federal Safety Violations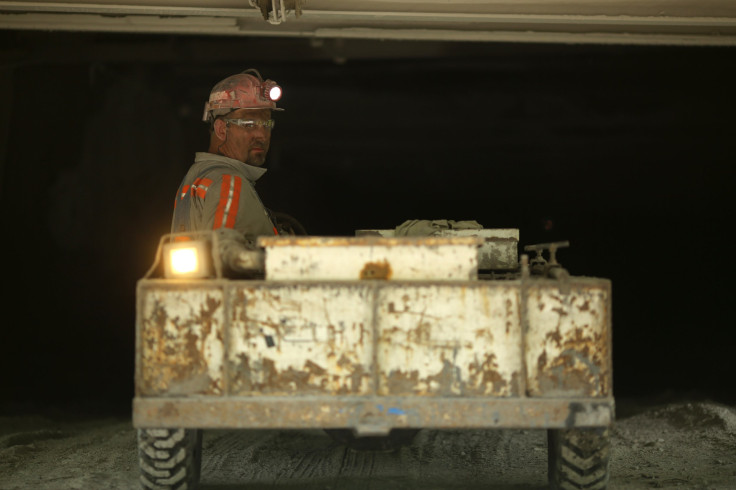 West Virginia coal companies successfully lobbied for a rollback of state mining safety regulations in the same month that mines they own were issued more than two-dozen health and safety citations by federal inspectors. Murray Energy, Arch Coal and Alpha Natural Resources are all members of the West Virginia Coal Association, which earlier this year led the push for the state's newly elected Republican-majority Legislature to pass the controversial Coal Jobs & Safety Act.
Democratic Gov. Earl Tomblin signed the bill into law in March over objections from the mineworkers' union and workplace safety advocates. It abolished a joint labor-industry panel that reviews underground diesel equipment to safeguard air quality, removed a prohibition on transporting equipment when workers are deeper in the mine than where the equipment is being shipped and expanded the maximum distance between rail tracks and work areas. The industry said the old regulations, which were stricter than their federal counterparts, were burdensome and did little to improve workplace safety.
In February, as the Legislature debated and approved the reforms, inspectors from the U.S. Department of Labor's Mine Safety and Health Administration (MSHA) visited three West Virginia mines owned by Murray, Arch and Alpha and slammed the companies with a combined 25 citations.
"Unfortunately, it's no coincidence that while these companies are advocating reducing state mine safety provisions to match the looser federal requirements, they are also being cited by the federal government for engaging in unsafe practices," said Kenny Perdue, president of the West Virginia branch of the AFL-CIO.
The citations were the result of MSHA's monthly "impact" inspections. Launched after West Virginia's Upper Big Branch mine disaster, which killed 29 workers in 2010, the inspections target "mines that merit increased agency attention and enforcement due to their poor compliance history or particular compliance concerns." The recent citations highlight the three companies' ongoing struggles with workplace safety.
'They Still Thumb Their Noses'
"They know they're coming and they still thumb their noses at the health and safety agencies," said Keith Wrightson, a worker and safety health expert at Public Citizen, a consumer advocacy group. "It's disgusting."
On Feb. 28, MSHA officials visited the operator of an Arch-owned mine in Grafton, West Virginia, and issued nine citations. Among the most serious: a failure to secure the "roof, face and ribs of an area where persons work or travel." The inspector determined the risk of fatal injury there to be "reasonably likely," noting the agency had cited the standard 42 times in two years at the mine. (When the roof of a Cameron, West Virginia, mine owned by Murray Energy collapsed last month, one worker died and two were injured.)
Celeste Monforton, a lecturer at George Washington University and a former MSHA official who served on a gubernatorially appointed team to investigate Upper Big Branch, said the repeat offenses were "horrible."
"How many times do you want to gamble with somebody's life?" Monforton said. "Sometimes, you're going to lose."
During the same inspection, MSHA officials found "an alternate escapeway" in the mine was "not being maintained in a safe condition to always assure passage of anyone." Again, the inspector determined the risk of fatal injury to be "reasonably likely."
A spokeswoman for Arch did not respond to requests for comment.
'False, Derogatory And Inflammatory'
Earlier in the month, inspectors doled out five citations to a Murray Energy-owned mine in Marion County, which ranged from improper ventilation practices and exposed wires to not maintaining air-locked doors.
Murray spokesman Gary Broadbent said the presence of nine inspectors "inundating the mine in one day" does "not add to the safety of our miners." When asked to respond to the charge that the company does not prioritize worker safety, Broadbent said such a statement was "absolutely false, derogatory and inflammatory." He said that "safety is, and always has been, the highest priority at Murray Energy."
Inspectors also issued 11 citations to an Alpha-owned mine near Beckley, West Virginia. That included exposure to a hazard of "breathing a high amount of harmful dust particles resulting in permanent lung disease," that is, black lung disease. Noting that inspectors had cited the standard 33 times in two years at the mine, the MSHA official called that tally "an unwarrantable failure to comply with a mandatory standard."
Before landmark federal regulations took effect in 1969, deadly black lung disease was frustratingly common in the coal industry. After declining for decades, disease prevalence has grown rapidly in recent years, in part, as companies cut corners on health and safety.
"The measures to help prevent it are very straightforward," Public Citizen's Wrightson said. That runs the gamut from workers wearing protective equipment to following time-tested practices that minimize the amount of airborne dust.
Alpha spokesman Steve Hawkins said that mine operators regularly address each of the alleged violations after inspections take place. "Affiliated operations receive mine inspections almost daily and take nothing more seriously than safety."
© Copyright IBTimes 2023. All rights reserved.