West Virginia GOP Changes To Mining Regulations, Wages, Charter Schools Put Unions On Defensive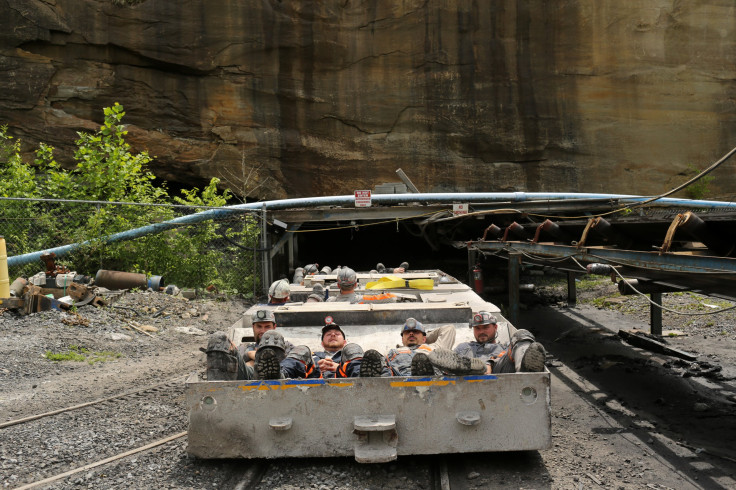 Organized labor and its allies plan to rally in Charleston, West Virginia, Saturday in protest of what they call a slew of "legislative attacks on working families." The bills include proposals to expand charter schools, loosen labor regulations in coal mining and roll back prevailing-wage rates.
For decades, the Mountain State was a bastion of unionism and liberalism in Appalachia. West Virginians have trended toward Republicans in presidential elections since the 1980s, but they continued to prefer Democrats on the state level until just recently. Last November, the GOP wrested control of the state Legislature away from the Democratic Party for the first time in more than 80 years, and this year's legislative proposals reflect the shift in power.
Perhaps the most controversial is a bill that would reform existing coal-mining regulations. Among other things, the proposal includes language that extends by 1,000 feet the maximum distance allowed between underground work areas and the closest track in mines with rail-based transport.
"Given the disasters we've had, the last thing we need is to be rolling back safety protections," says Stacey Ruckle, a representative of the West Virginia AFL-CIO.
In April 2012, 29 miners were killed in an explosion at Massey Energy's Upper Big Branch coal mine in West Virginia.
Republican legislator John Shott said the measure would boost the competitiveness of the state's coal industry. "This bill will put us back in the ballgame," Shott said.
The charter-school legislation would extend public funding to such schools, but limit oversight by local boards of education. It also would authorize individual charter schools to decide whether employees would be eligible for the state's public-employee grievance system. The bill passed the state Senate this week and is due soon for a vote in the House of Delegates.
Unions oppose the expansion of charter schools because, for one thing, it undermines the strength of teachers unions that have a large presence at public schools. But deeper questions about equality loom, too. Critics in West Virginia say it makes little sense to divert money from an already weak education budget into schools that do not guarantee access to every student.
"It's creating a system of have and have-nots in education in West Virginia," says Tega McGuffin, 30, a teacher at Oak Hill High School in Fayette County.
Another bill rankling organized labor would make the state's prevailing-wage rates less generous. These rates apply to all workers on state-funded construction projects, or about 45,000 people, according to a Democratic legislator.
The prevailing-wage bill has already passed both chambers and now awaits the signature of the governor. Even Ruckle at the state AFL-CIO acknowledges it's likely to be enacted.
Still, she says, the rally is about demonstrating strength and unity, and sending a message to the GOP-run Legislature that it's gone too far.
A major concern is that the state could soon go "right-to-work," that is, prohibit unions from collecting fees from all the workers they represent. Indiana and Michigan passed such measures in 2012, and Wisconsin is on the verge of doing so this month.
"It hasn't happened yet, but that's not to say it won't happen later," says Ruckle.
© Copyright IBTimes 2023. All rights reserved.