Colombia Allows Transgender Community To Change Sex On IDs Without Physical Exams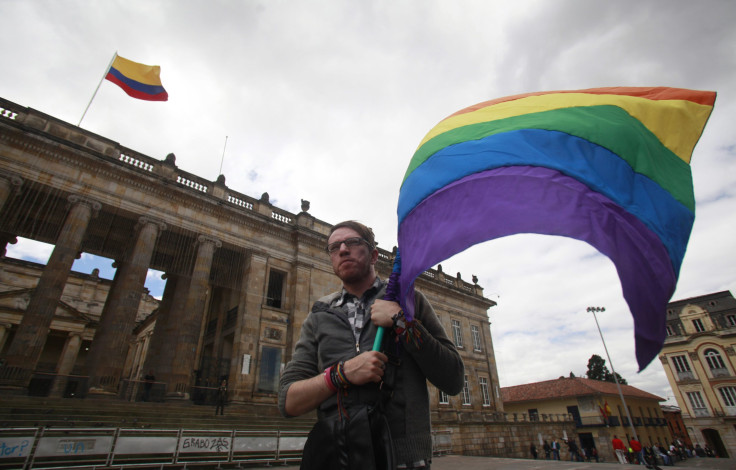 Members of Colombia's transgender community now will have an easier time changing their names and sex on identification cards under a new law. Colombians will be able to change their sex on identification forms without having to prove their sexual identity through psychiatric or physical evaluations.
Colombia's ministers of justice and interior will present the decree Tuesday, the news agency Efe reported. Justice Minister Yesid Reyes told Colombian newspaper El Espectador he approved the rule change Friday to allow people to change their sex on government-issued ID cards by signing a document before a notary, bypassing the "cumbersome" way those changes currently are approved.
"Judges used to order bodily inspections to determine if people had physically changed their sex, or demanded a psychiatric exam to know if the applicant had gender dysphoria," Reyes said, referring to the technical term used for those whose gender identity deviates from their sexual anatomy. "Both exams were profoundly invasive of privacy rights and were rooted in unacceptable prejudice. The construction of sexual and gender identity is an issue that doesn't depend on biology."
The move comes just weeks after a state court in the city of Ibague ruled the required physical examinations were not unreasonable or disproportionate since they were voluntary. "It is a matter of self-determination for the interested party to decide whether to bear the burden of bodily examination or face the legal consequences of not doing the test," the court said in a statement, according to Colombia's El Nuevo Dia newspaper.
Colombia's Constitutional Court ruled last month transgender women were exempt from compulsory military service, but recommended the defense ministry develop specific protocols for transgender men and women who want to join the military to avoid gender discrimination in military recruitment.
Last month, Interior Minister Juan Fernando Cristo also remarked the government's ruling party supported rights for the LGBT community in Colombia, including same-sex marriage and adoption rights. Regarding the new identification procedures, he said the change was an "important advance for the recognition of the LGBT community in Colombia."
Nevertheless, Colombia's transgender community remains vulnerable to discrimination and violence. Nearly 70 transgender people have been slain in Colombia in the last eight years, according to Todd Howland, the U.N. human rights representative in Colombia. "These forms of violence show the country still needs to intensify the building of a culture of absolute respect for human rights, in which all lives are important and everyone can live free of any type of violence, be it physical, verbal or psychological," Howland said in a statement last month.
© Copyright IBTimes 2022. All rights reserved.
FOLLOW MORE IBT NEWS ON THE BELOW CHANNELS