Conor McGregor Quotes On Floyd Mayweather: 10 Times The UFC Fighter Has Bashed The Boxer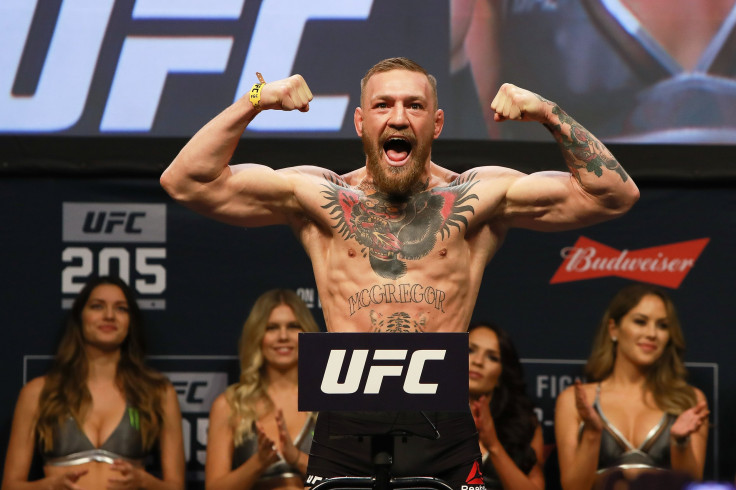 Floyd Mayweather and Conor McGregor might never meet in hand-to-hand combat, but their feud has received more attention than most fights in either boxing or MMA ever have. They continue to go back and forth through the media, discussing terms of a possible boxing match.
Mayweather made the latest comment in their public negotiation, stating that he is ready to make a fight with the UFC star a reality during a Showtime boxing telecast. Mayweather hasn't fought since he retired in September 2015, but he indicated that McGregor is the only opponent that would get him back in the ring.
Reports of McGregor-Mayweather potentially becoming a reality first surfaced last May, but the two fighters have been going back and forth for close to two years. McGregor emphatically stated that he was prepared to defeat Mayweather multiple times in 2015, making bold claims ahead of UFC 189.
McGregor has since won four fights and become a mainstream star, selling pay-per-views at a historic rate in the UFC. But he won't leave Mayweather alone, continuing to pursue a boxing match with the undefeated fighter.
While Mayweather has done his fair share of jawing, most of the trash talk has come from McGregor. Here's a look at 10 notable quotes from McGregor about Mayweather:
"I would kill him in less than 30 seconds." April 15, 2015
Before he ever fought in the main event of a UFC PPV, McGregor was entertaining thoughts of facing Mayweather. As talks have become more serious, McGregor has conceded that he is willing to join Mayweather's world and have a boxing match. But when he was asked about fighting Mayweather in an MMA fight, the champion wasn't shy about telling Esquire that he'd finish off the boxer quickly.
"Who would not like to dance around the ring for $180 million?" July 2, 2015
When Conan O'Brien asked McGregor if he'd like to face Mayweather, the UFC star mocked the boxer's fighting style. Mayweather had just recently made well over $200 million for beating Manny Pacquiao in what was largely considered to be a boring bout.
"In a real fight, I would dismantle him in seconds. Ronda [Rousey] would dismantle him in seconds – 100 percent." Aug. 19, 2015
Before she suffered her first loss in UFC, Ronda Rousey proclaimed that she would beat Mayweather in a fight under MMA rules. During an interview with The Guardian, McGregor backed up the biggest female UFC star in history.
"If you need a safety net of rules, we can do that as long as you have my money. I don't need no rules to protect me. That's my thoughts on all that." Aug. 12, 2016
Even in the days leading up to his highly anticipated rematch with Nate Diaz, McGregor was fielding questions about Mayweather. While doing press for UFC 202, McGregor indicated that he'd be willing to fight Mayweather in a boxing match if he was given enough money.
"I want a $100 million cash to fight him under boxing rules because he's afraid of a real fight." Nov. 16, 2016
In a video obtained by TMZ at a nightclub in New York City, McGregor declared that he would need nine figures to box Mayweather. Mayweather has since countered that demand, offering McGregor a guaranteed purse of $15 million, in addition to a percentage of the PPV revenue.
"Age waits for no man." Dec. 2, 2016
Mayweather has the clear edge over McGregor in a boxing match, but the UFC lightweight champion said he can defeat the much older boxer during a Q&A in Ireland. Mayweather turned 40 years old on Feb. 24, and McGregor won't celebrate his 30th birthday until 2018.
"All he does is decisions. He can never stop them. So all I have to do is pick some schmuck out that he only could decision, bounce the left hand off his dome, sleep him, and then there you go: It's already done." Feb. 15, 2017
In an interview with GQ Style, McGregor knocked Mayweather for his boxing style. Mayweather ended his career with no knockouts in his last seven fights, and McGregor has boasted that he would have been able to finish a few of Mayweather's opponents.
"My fist is bigger than his head." Feb. 15, 2017
In addition to Mayweather's age, McGregor has knocked the boxer's size, doing so in the GQ Style interview. While Mayweather dominated the 147-pound weight class and McGregor was once the 145-pound champion, the UFC fighter is the bigger man. McGregor is an inch taller with a longer reach, and he's won a fight weighing as much as 168 pounds.
"I flew to Las Vegas and he didn't show his face. As soon as I touched down in Vegas, he retired twice. He retired twice." Feb. 18, 2017
TMZ caught up with McGregor when they spotted him in Las Vegas, asking him about the mega-fight. McGregor indicated that Mayweather wouldn't meet with him.
"Floyd's a bitch and he's petrified." Feb. 18, 2017
It's a theme that has been part of many of McGregor's comments about Mayweather. He claims that the boxer is afraid to fight him and in fear of losing his perfect record.
© Copyright IBTimes 2023. All rights reserved.