Conor McGregor vs. Chad Mendes: Early Prediction, Betting Odds, Preview For UFC 189 Featherweight Title Fight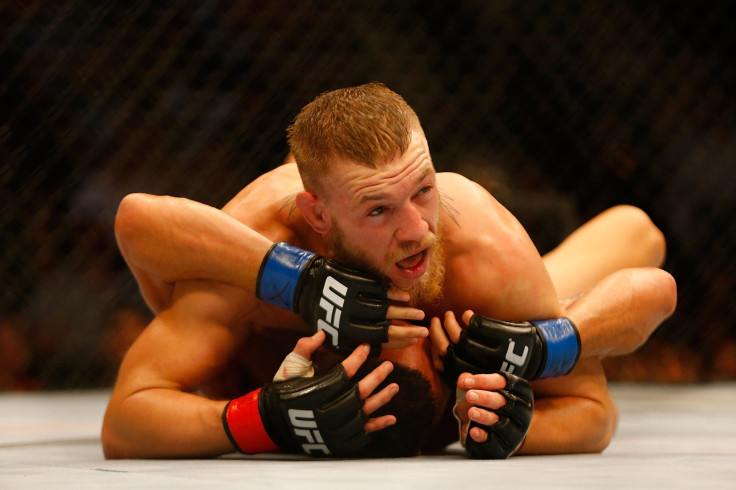 Pitting the UFC's fastest rising star and merciless striker against one of its most technically-sound wrestlers, Conor McGregor and Chade Mendes will stare down for the interim featherweight title Saturday night at the MGM Grand in Las Vegas.
Both own 17-2 records, but the Irish McGregor's ascension to the top of UFC over the last two years and his 15 violent knockouts and 12-match winning streak make him the favorite over California-native Mendes.
McGregor, 26, last rocked Dennis Siver with a second-round KO in January, which originally set up a much-hyped showdown with Jose Aldo. However, Aldo endured a broken rib and was forced to pull out late last month, even after some controversy with UFC officials over whether or not he was too hurt to fight.
But the change of opponents and a little over two weeks prepare hasn't derailed McGregor's tenacity or focus towards Mendes.
"You want to know how confident this kid is?" UFC president Dana White told The Jim Rome Show Tuesday. "I can't even believe I'm going to say this, but, he told [UFC CEO] Lorenzo [Fertitta] and I the other day 'I'll bet you $3 million I knock him out in the second round.'"
White hasn't accepted the bet, but he did play up The Notorious one's larger-than-life personality and showmanship when it comes to entering the octagon and prepping for a bout.
"I like to bet, I don't know if I'm that willing to take that bet," White said. "When I tell you how extremely confident this guy is in himself, it's fascinating. He is a very unique, fascinating person to listen to. Fun to listen to, and fun to watch."
Other than his punching power and ferocious approach, McGregor's size and reach give him a distinct advantage over Mendes. McGregor stands three inches taller and his reach is 74 inches, eight more than Mendes, and it's a fact sportsbooks find the most glaring.
Though Mendes has flexed some power before, most recently punching out Ricardo Lamas in the first round only three months ago, and making up for his loss to Aldo via decision last fall. Altogether, seven of Mendes' victories have come by knockouts, but he knows the best chance of taking McGregor down will be on the matt with his superior wrestling skills.
"Conor has never faced anybody like me before," Mendes said to the Sacramento Bee. "I have the athleticism, the strength, the power, the speed, and I have wrestling to put him on his back to finish this fight."
Betting Odds: McGregor -175
Over/Under: 2.5 rounds
Early Prediction: The size advantage and overall speed have to go to McGregor. He has the length and power to keep Mendes' grapple and takedown attempts at bay, while inflicting damage that will score points with judges. However, even though McGregor has a certain panache for predicting his outcomes, he won't pick up the knockout until the second or third round.
© Copyright IBTimes 2023. All rights reserved.