Continuing Resolution 2014: Senate Votes 54-44 To Strip Defund Obamacare Language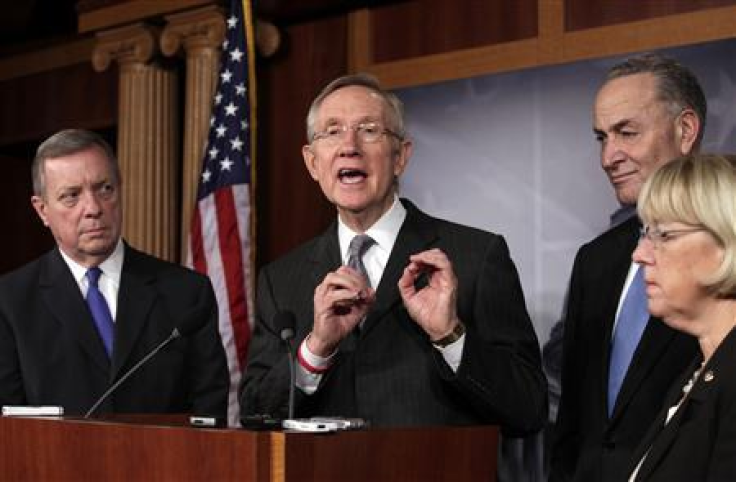 Democrats successfully removed language to defund Obamacare from a House continuing resolution on Friday with a 54-44 vote. What this means is that a clean continuing resolution would be returned to the House after a final vote set to happen shortly.
It is very unlikely that this amended bill will pass the lower chamber. House Republicans are said to be contemplating attaching a one-year delay of Obamacare to the bill, as they expected the Senate's Democratic majority to restore the health care law's funding. It is now up to the GOP to determine whether there will be a U.S. government shutdown in 2013.
The Reid amendment removed what Sen. Barbara Mikulski, D-Md., called "a toxic political item," the language to defund Obamacare, and at the same time, it changes the Dec. 15 expiration date in the House measure to Nov. 15. Earlier in the day, a frustrated Mikulski put Republicans on notice about the goal of Democrats.
"Our goal today is to send the House a continuing resolution stripped of ideological riders that keep the government funding until Nov. 15 while we work out other budget issues," Mikulski said. She was taking a jab at the defund language included in a House bill passed last week, proposing to appropriate money to every part of the government except the 2010 Affordable Care Act.
"[Obamacare] is the law of the land," she added. "There is no need to keep fighting that battle."
A week ago, the House voted 230-189 to pass the temporary stopgap bill that would allocate approximately $986 billion to fund the government until Dec. 15, except Obamacare. Since then, Sens. Ted Cruz of Texas and Mike Lee of Utah have been trying to muster support from their colleagues to demand a 60-vote threshold to end debate on the resolution. It was their attempt to prevent Democrats from making any changes to the House bill, particularly from removing the defunding language.
"This is the battle line: Senate Republicans must stop Reid from rejecting the House bill and adding Obamacare funding with merely 51 votes," Cruz recently wrote in an op-ed for Real Clear Politics. "The House bill must be protected."
Cruz also appealed to Senate Republicans that "a vote for cloture is a vote for Obamacare."
The votes, however, were shaping up to whip against Cruz, as on Wednesday, lawmakers overwhelmingly advance the 2014 continuing resolution 100-0, setting the stage for Reid to gut the blockage to Obamacare. Cruz was ultimately defeated Friday afternoon when several Republicans helped Democrats surpass the 60-vote threshold, voting 79-19 to end debate on the resolution and proceed to final passage.
© Copyright IBTimes 2023. All rights reserved.