Controversial Noah's Ark Theme Park Slated To Open July 2016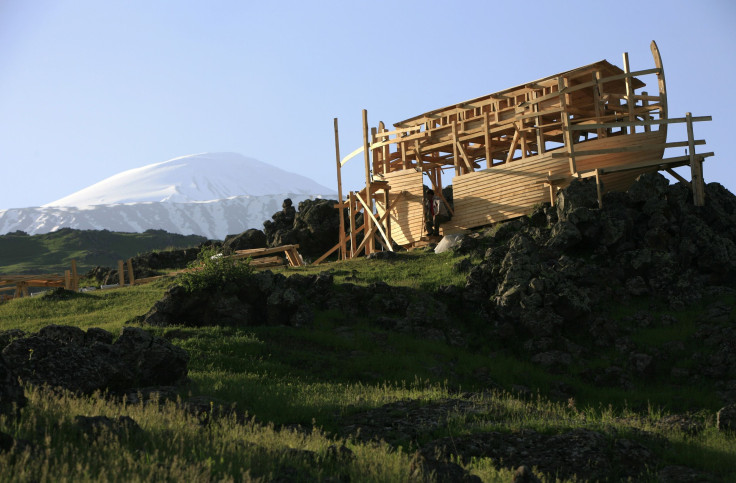 A divisive Noah's Ark theme park dubbed Ark Encounter in Williamstown, Kentucky, is scheduled to open July 7, 2016, the park's founder announced Thursday, Reuters reported. The opening date of the park was chosen based on the seventh verse of the seventh chapter in the book of Genesis, which described when Noah and his family entered the ark.
"Out of all the biblical events, probably the ark is the most well-known around the world, which is one of the reasons why it's going to attract visitors from all over the world, not just Christians," Ken Ham, founder and president of Answers in Genesis, said, the Courier-Journal reported. "People from all different backgrounds are interested in Noah's Ark."
The Christian organization behind the park, Answers in Genesis, also runs the Creation Museum in Boone County and follows a literal interpretation of the biblical book of Genesis. The organization believes the Earth is roughly 6,000 years old and that the creation of Earth happened in six days — a view contrary to established science — and therefore some of its projects have received widespread criticism.
"We make no apology about our Christian message," Ham said in a post on the organization's website last week. "We have never hidden the fact that our purpose is to spread the truth of God's Word and its life-changing gospel message."
The Noah's Ark theme park is expected to include a petting zoo, restaurant, theaters and a full-sized wooden replica of the ship from the Biblical story. Ark Encounter is predicted to garner 1.4 million to 2.2 million visitors per year and have an economic impact of $4 billion over 10 years, as well as generate 20,000 jobs in the regional tourism industry, according to Ham. To kick off the park, Ark Encounter will be open for 40 days and 40 nights.

"It's going to be a world-class attraction," said Ham, the Courier Times reported. "It's going to be the biggest timber-frame building in the world. And I think people will come to see it just from the perspective of even the architecture and the engineering."
In recent years, the construction of the park has been engulfed in controversy. In the summer of 2014, Kentucky officials granted Ark Encounter's developers tax incentives potentially worth over $18 million in more than 10 years, but state officials pulled the credits in December when the developers said they would only hire workers who shared their fundamentalist Christian beliefs. The park's officials then sued the state in federal court in February in an attempt to get the incentives reinstated.
© Copyright IBTimes 2023. All rights reserved.
FOLLOW MORE IBT NEWS ON THE BELOW CHANNELS