China Opens Communist Theme Park In Wuhan, Features Area For Kids To Pledge Party Allegiance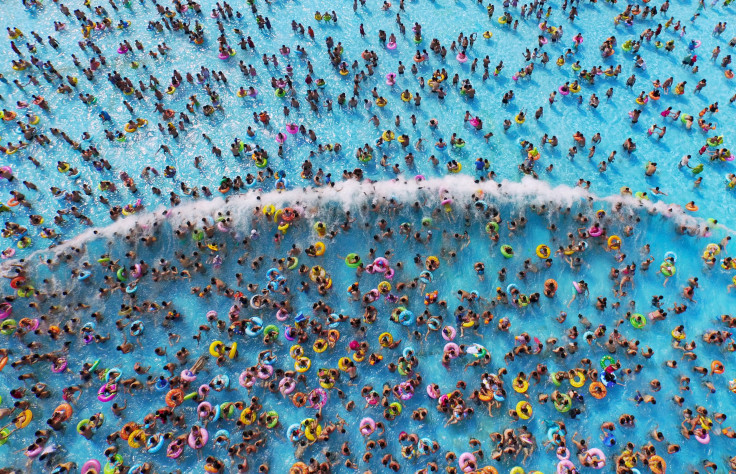 Chinese children can now zoom down water slides while learning the ideals of communism. A Communist Party theme park just opened in Wuhan, China, at the behest of local government officials, CNN reported Friday.
The park in the capital city of China's Hubei province is dedicated to the country's homegrown heroes and promotes Party ideals. It opened to the public Sept. 28 and is located inside the 300,000-square-meter South Lake Happiness Bay Water Park. It's the largest such park in China, reported the Wuhan Evening News, and it's just one of six parks planned by Wuhan officials to promote patriotism and communist ideals.
The park features a sculpture inscribed with core values of the Party and hoped to help attendees better understand the ideals like "socialism with Chinese characteristics" while highlighting key figures, according to the BBC.
The park will also depict 29 "excellent party figures" on bronze plates and 23 pieces of artwork that display key moments for the Chinese Communist Party between 1921 and 2014, according to CNN.
Some of the features are blunt in their courting of youths for the Communist Party. In fact, one attraction is a square where young people can take an oath to join the Communist Youth League. There's a playground with cartoon figures of Red Army Soldiers, the floor mapping out Mao's army's famous Long March in the 1930s to evade Nationalist Army forces.
State media has described it as a red "benefit," but so far, a number of reviews of the park have ranged from lukewarm to outright criticism. Those who are less party-minded have called the park plain and said it was an attempt to "brainwash" people, reported the BBC.
And while some social media users praised it, others weighed in with less-than-complimentary reviews, one with the username "Netizen H_Helios" saying, "Not complete; they also need to set up a few statues of corrupt officials for citizens to spit on," according to the BBC.
"I hope nobody will go! It's an advanced brown-noser [sic]," one user of Chinese social networking site Weibo wrote, hinting that local officials are elbowing closer to Beijing, according to CNN.
Another with the username "Minghezaitian1983" wrote, "Schools and work units probably will organize trips there, brainwashing kids and enhancing employees' sense of identity with the party."
While the new park may have mixed reviews, s0-called "red tourism" has grown in China. Last summer, various state departments in China committed some $770 million toward financing Communist Party-themed attractions to promote party ideals.
© Copyright IBTimes 2023. All rights reserved.