Coronavirus Hits Airports: 61 TSA Screeners Test Positive; What Airlines, Airports Are Doing  
In late March of 2019, close to 2.5 million people were screened at airport checkpoints by Transportation Security Administration (TSA) screeners, presumably to sniff out suspected acts of terrorism or confiscate illegal drugs. One year later, on Thursday, March 16, 2020, only 203,858 people were screened across the country.
Most drug smugglers and terrorists, as well as everyday travelers, are probably sitting at home waiting for the wave of COVID-19 cases expected to crest over the next few weeks. TSA screeners, however, are still on the job performing tasks that disobey most guidelines for social distancing, the most effective way to prevent contracting the disease.
The inevitable result is that at least 61 TSA screeners have now tested positive for the coronavirus leaving the public to wonder what the airlines, airports, and TSA are doing to stem the illness.
Proving that the SARS-COV-2 virus does not discriminate according to rank, even the TSA's director of security at LaGuardia and three other New York airports have tested positive. The director, Robert Duffy, told his colleagues via an email obtained by the NY Post on Friday, "This is obviously not the lottery I wanted to hit, but I will press on through it. While I am required to stay out of work for the next 14 days, I will keep on top of the ongoing activity."
The TSA, the American Federation of Government Employees (The TSA's worker's Union) plus airports, airlines, and passengers are all making extra efforts to remain uninfected by the virus:
The Union said in a statement, "We've had meetings, made phone calls and sent emails almost daily urging TSA management to provide N95 masks and other protective equipment for our officers. Our efforts have finally paid off."
The Washington Post reported that around 1.5 million expired, but "fully capable," N95 masks that were sitting in an Indiana warehouse will be made available to TSA workers.
Colleen Costello, CEO of Vital Vio, which provides technology into lights that kill bacteria and germs, told Airport-Technology.com that airlines are moving "very quickly overnight" to get available technology that will kill harmful bacteria on planes.
Airlines are adjusting seat assignments to ensure social distancing, a task made easier with the decline in passengers. The airlines are also increasing their cleaning efforts and offering hand sanitizer to passengers.
Airlines are also changing on-board services such as requiring flight attendants to wear gloves while providing food and beverages.
Airports are adding many new hand sanitizer stations and adding cleaning crews to clean often touched surfaces like escalator and stair handrails, kiosks and public tables.
TSA is allowing travelers to bring 12-ounce hand sanitizer in their carry-on bags, along with disinfecting wipes. They have also asked passengers to put small items like keys and wallets normally scanned in plastic bins into their carry-on luggage to avoid any transfer of the pathogen.
Duffy expressed gratitude to TSA employees in the email. He added, "You are doing outstanding work in this difficult and challenging time. You have my full confidence to keep fulfilling our obligations to the American people who place their trust and confidence in us every day."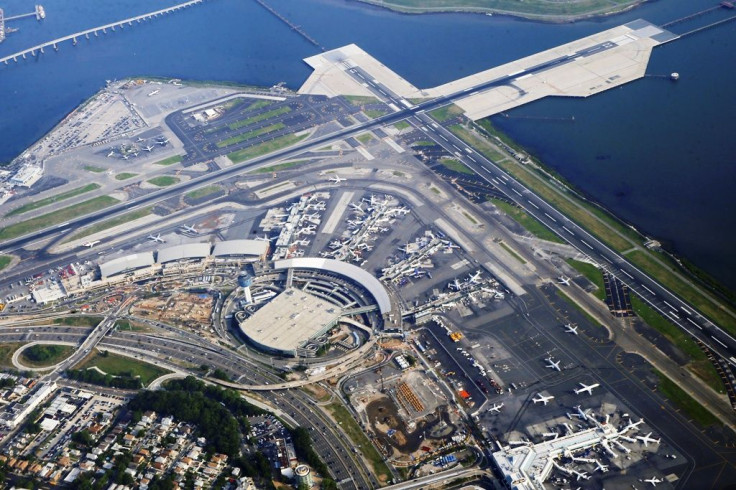 © Copyright IBTimes 2022. All rights reserved.
FOLLOW MORE IBT NEWS ON THE BELOW CHANNELS