Coronavirus: Manny Pacquiao's Next Fight May Not Have Fans, Possible Opponent Reacts
KEY POINTS
Manny Pacquiao's next possible opponent addresses chances of fighting without fans
Pacquiao may have found a simple way to prevent coronavirus
Pacquiao's next possible opponent thinks he can KO Filipino legend
Manny Pacquiao's next possible opponent addressed coronavirus and the chances of fighting the Filipino legend without fans in attendance.
Mikey Garcia is touted as Pacquiao's next opponent in his much awaited return inside the ring. However, ahead of the highly-anticipated fight, coronavirus or better known as "COVID-19" has got the world of sports drastically affected.
During a brief interview with Elie Seckbach of EsNews, Garcia was asked if he would still fight Pacquiao even without the fans following the coronavirus pandemic. According to Garcia, the Pacquiao vs. Garcia fight will not reach that point and if ever it does, people can still watch online or via TV but it will never be as intense as the live match.
"I don't think we'll be at that point," Garcia said of possibly fighting Pacquiao without fans following coronavirus pandemic.
"You can try streaming and do (watch) it on TV but it's never the same," Garcia continued.
Meanwhile, Pacquiao have found a simple way to help prevent coronavirus. As a boxing icon and a lawmaker in Philippines, eight-division title holder Pacquiao is doing his part to stop the spread of the said pandemic. Starting from his hime country, Pacquiao wants to ban spitting and blowing of nose in public places in the Philippines.
The "Fighting Senator" has spearheaded the filing of a bill seeking to ban spitting and expelling mucus in public places to the Senate, following the rise in number of "COVID-19" patients in his homeland.
Under Pacquiao's Senate Bill No. 1406 or the proposed "Anti-Spitting Act of 2020," individuals who would spit or "intentionally" expel "saliva, phlegm, or mucus" in public would be fined between 5,000 Php ($98) and 50,000 Php ($982).
The 41-year-old legend emphasized that his bill will not only help prevent the spread of coronavirus but also airborne diseases that could possibly be passed on when in public places.
"This shall not only prevent the spread of the coronavirus and [but also] other contagious and airborne diseases," Pacquiao added.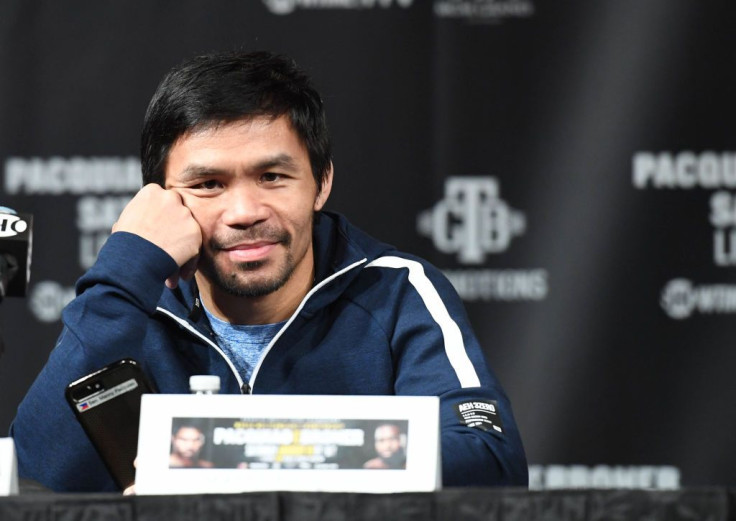 Following an impressive win over Jessie Vargas, Garcia now solidifies his case to be Pacquiao's next opponent. After his win, Garcia took the opportunity to call out Pacquiao once again during the post-fight conference.
Garcia described Pacquiao as a "living legend" and has been rooting for a fight with him even before the Vargas match. And now that he has secured a decisive win under his name, the 32-year-old is eager to prove he can share the ring with a world-class fighter saying "he can take Pacquiao out."
"It's not very often that we get to possibly get an opportunity to fight an all-time great. I think I can definitely show everybody that even though he looked great, I can take him out," Garcia said of fighting Pacquiao.
© Copyright IBTimes 2023. All rights reserved.