Coronavirus Reshapes Global Economy: Japan To Fund Companies To Shift Production Out Of China
KEY POINTS
Abe has announced a $990 billion stimulus plan to help economy tide over the crisis
Japanese companies had for long wanted to scale down dependence on China
China's hopes for a business-as-usual scenario after the crisis may be misplaced
Japanese firms that had been planning to cut dependence on China for a long time may be happy with Prime Minister Shinzo Abes' substantial $2.2 billion worth of allocation for helping them move out production. These companies had wanted to avoid getting caught in the increasingly acrimonious U.S.-China trade war.
Abe announced a stimulus package of nearly $990 billion to help the economy tide over the crisis and the outlay can hugely alter the post-pandemic industry scene. Japan reported 4,768 infections and 85 deaths as of Thursday (April 9) from the coronavirus pandemic. The global death toll is nearing 95,800 and infections have topped 1.6 million.
Economic stimulus package
The stimulus package earmarks 220 billion yen ($2 billion) for companies shifting production back to Japan and 23.5 billion yen for those seeking to move production to other countries, Bloomberg reports.
China was Japan's largest trading partner until the coronavirus struck, leading to substantial scaling back of trade. In a setback to the ties, a visit by Chinese President Xi Jinping scheduled for early this month was postponed amid the spread of the virus and no new date has been set, the Bloomberg report said. The allocation for moving plants out of China could further sour ties between the two Asian economic giants despite Abe's avowed efforts to bring the two traditional rivals closer.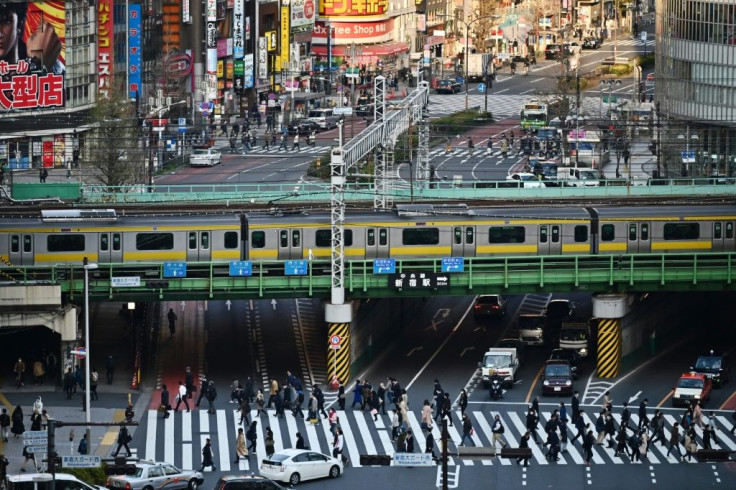 The government's thinking is that companies need to maintain a production base in China only for goods targeting the Chinese market, the report says. A government panel on future investment last month discussed the need for manufacturing of high value-added products to be based within Japanese shores. The production of other goods could be diversified across Southeast Asia, a move that will benefit low-cost production centers like Vietnam and Cambodia, and some other Asian economies.
Plan to diversify
"There will be something of a shift," the report quotes Shinichi Seki, an economist at the Japan Research Institute, who added that some Japanese companies manufacturing goods in China for export were already considering moving out. "Having this in the budget will definitely provide an impetus." Companies, such as carmakers, that are manufacturing for the Chinese domestic market, will likely stay put, he said.
About a thousand Japanese companies began to diversify the purchase of components for their production in February, abandoning Chinese suppliers, the report says quoting Tokyo Shoko Research. Japan exports a far larger share of parts and partially finished goods to China than other major industrial nations, according to data compiled for the panel. A February survey by Tokyo Shoko Research found 37% of the more than 2,600 companies that responded were diversifying procurement to places other than China amid the crisis.
China may have been eyeing a business-as-usual scenario after the crisis. "We are doing our best to resume economic development," Chinese Foreign Ministry spokesman Zhao Lijian said Wednesday. "In this process, we hope other countries will act like China and take proper measures to ensure the world economy will be impacted as little as possible and to ensure that supply chains are impacted as little as possible."
The fact that many in Tokyo share the U.S. view that China failed to inform the world early enough about the pandemic may lead to more frosty ties between the two countries, despite apparent warming of relations in the early days of the outbreak when Japan sent aid to China.
The two countries have a continuing territorial dispute over East China Sea islands that brought them close to a military clash in 2012.
© Copyright IBTimes 2023. All rights reserved.