Coronavirus Update: Another Cristiano Ronaldo's Juventus Teammate Tests Positive
KEY POINTS
Ronaldo has escaped to his hometown of Madeira to dodge the coronavirus situation
He had shared the dressing room with now infected players during Juve's last Serie A game
Italy is the worst-hit country in all of Europe
France midfielder Blaise Matuidi became the second Juventus player to have tested positive for pandemic coronavirus, the club revealed in an official statement Tuesday.
Matuidi, who is understood to have been in voluntary home isolation since March 11, is "well and asymptomatic," the Italian club has assured.
"Blaise Matuidi has tested positive. He is in voluntary home isolation, is asymptomatic and is fine. Blaise Matuidi has undergone medical tests that have revealed his positivity to the Coronavirus-COVID-19. The player, as of Wednesday 11 March, has been in voluntary home isolation. He will continue to be monitored and will follow the same regime. He is well and is asymptomatic," Juventus wrote in their statement.
Players from other top-tier Italian clubs Sampdoria and Fiorentina have also been tested positive for coronavirus as the list of European players to have tested positive or are in self-isolation continues to grow with passing days. In Spain's top-flight league La Liga, Espanyol broke the news of six of their players testing positive and the announcement came right after Valencia earlier revealed that 35% of their players and staff have the deadly virus.
The president of the Spanish football federation, Luis Rubiales reportedly has criticized the league's plan to carry out tests for coronavirus at first and second division club terming it "irresponsible" when there are others who need to be tested more urgently in the course of the crisis situation.
In other news, Matauidi's Juventus teammate Cristiano Ronaldo has escaped to his island hometown of Madeira in Portugal to dodge the virus circumstances. The 35-year-old superstar has reportedly remained in lockdown at his apartment in Funchal and was seen sunbathing by the pool on his balcony.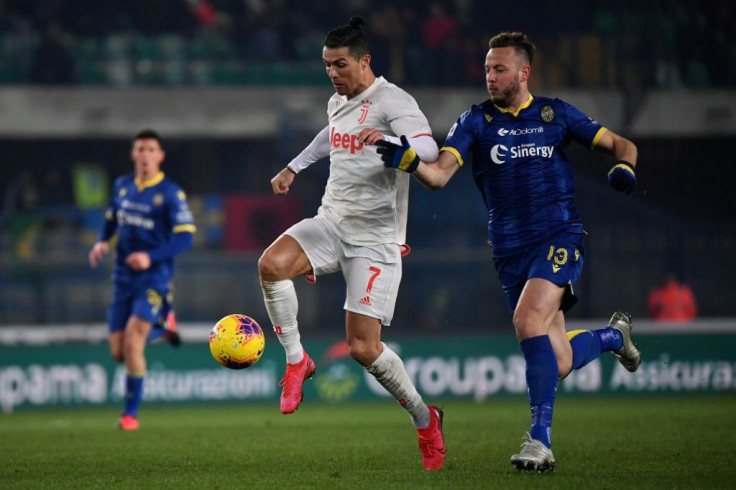 Ronaldo returned to Maderia after the current 2019-20 season of Serie A was postponed until April 3 in the wake of the coronavirus crisis. Itlay has been the worst-hit country in all of Europe.
The former Real Madrid star had shared the dressing room with his virus-hit Juventus teammates, Daniele Rugani and Blaise Matuidi during Juventus' last fixture that was against Inter Milan.
© Copyright IBTimes 2023. All rights reserved.