Corruption In Nigeria Could Cost 37% Of GDP By 2030: Report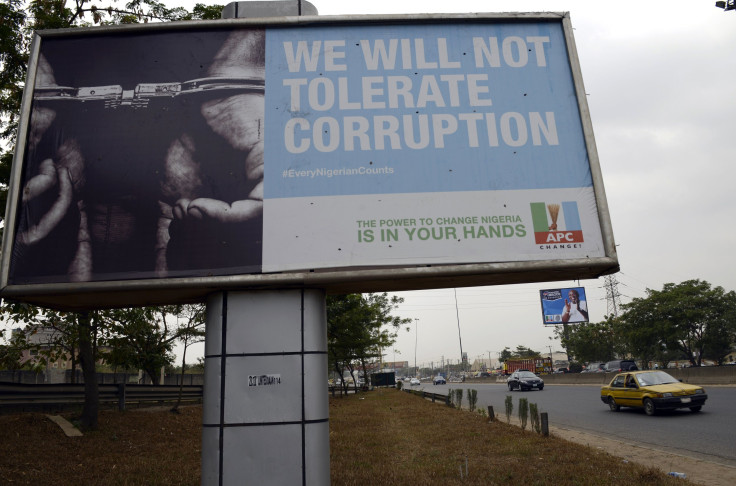 Corruption in Nigeria could cost the country up to 37 percent of its gross domestic product within the next 14 years, according to a report released Monday by global professional services powerhouse PricewaterhouseCoopers. That translates to a loss of around $1,000 per person who lived in Nigeria in 2014 and could leap to almost $2,000 per person by 2030 if corruption is left unchecked.
"Corruption is a pressing issue in Nigeria," the report said. "Our results show that corruption in Nigeria could cost up to 37 percent of GDP by 2030 if it's not dealt with immediately."
The report, "Impact of Corruption on Nigeria's Economy," analyzed 32 studies to understand the negative impact of corruption on Nigeria's GDP, including data from the U.S. Organization for Economic Cooperation and Development, the International Monetary Fund and the U.K. Department for International Development. The findings reveal that Nigeria's GDP could gain up to $534 billion by 2030 if corruption is addressed.
Countries with higher levels of corruption are associated with poor public finance management and provision of public goods, as well as erosion of talent in public institutions, and therefore a lack of government effectiveness. They are also linked with lower tax revenue and expenditure. PricewaterhouseCoopers estimated Nigeria's tax revenue stands at 8 percent of GDP, which is the lowest for the countries the report used for comparison: Ghana, Colombia and Malaysia. The report and its findings were submitted to Nigerian Vice President Yemi Osinbajo in the capital of Abuja, according to Nigerian newspaper Vanguard.
Nigerian President Muhammadu Buhari has made reducing graft a top priority for his administration. He launched an anti-corruption drive after taking office in May last year, following a string of high-profile corruption scandals that underscored the sheer size of the problem. Former National Security Adviser Sambo Dasuki is on trial for allegedly diverting some $2 billion in funds earmarked for fighting the Boko Haram insurgency in northeast Nigeria. Other former public officials, many of whom served under former President Goodluck Jonathan, have been linked to the case.
The scale of corruption within Nigeria's oil sector was revealed in a report published in August last year by a New York-based international governance watchdog. The report alleges the state-run Nigerian National Petroleum Corp. withheld about $12.3 billion from the sale of 10 million barrels of oil over 10 years. Buhari, who appointed himself petroleum minister in September, has fired the entire board and executive directors of the oil company, and hired a Harvard-educated lawyer as the managing director to lead reforms.
© Copyright IBTimes 2023. All rights reserved.
FOLLOW MORE IBT NEWS ON THE BELOW CHANNELS