In Nigeria, Goodluck Jonathan Administration Accused Of Stealing $9B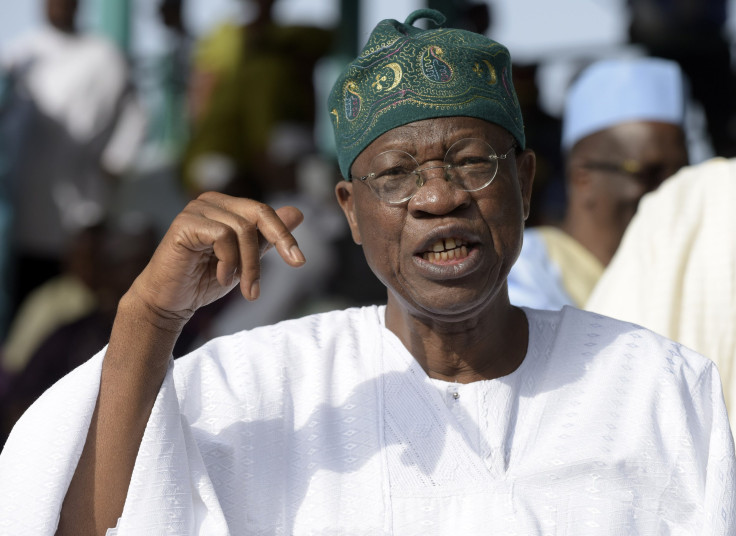 Nigeria's information minister Monday accused 55 people, including former governors, cabinet ministers and civil servants, of stealing $9 billion from the government's coffers. Lai Mohammed said the looted funds included $2.1 billion intended to purchase weapons to fight Boko Haram but were instead diverted to the election campaign of former President Goodluck Jonathan and his Peoples Democratic Party, according to the Associated Press.
Speaking in the capital of Abuja to launch an anti-corruption campaign, Mohammed said the funds were stolen between 2006 and 2013, when the naira currency stood at about 150 the dollar, or half of today's value. He did not provide proof to support the figures, nor did he name the 55 accused, but he said businessmen and bankers were also among them.
"This is the money that a few people, just 55 in number, allegedly stole," Mohammed said, according to Reuters. "If we don't kill corruption, corruption will kill Nigeria."
Mohammed added: "The time to act is now," and the judiciary is critical to "Nigeria's war" on corruption. Three different courts have granted bail to Nigeria's former national security adviser, Sambo Dasuki, who is accused of being instrumental in diverting the $2.1 billion earmarked for the fight against Islamic militant group Boko Haram's six-year insurgency. Dasuki, who served under Jonathan, has said he diverted the funds on Jonathan's orders.
Jonathan, who ruled from 2010 to 2015, lost the re-election in March to Muhammadu Buhari. His Peoples Democratic Party, which previously held majority rule for 16 years, also lost its legislative power to Buhari's All Progressives Congress amid numerous allegations of graft. Buhari, a 73-year-old former military ruler, has vowed to crack down on corruption and defeat Boko Haram since taking office in May. He has said his administration will recover the "mind-boggling" sums of money stolen from the corrupt oil sector, saying that Nigeria's treasury was "virtually empty" when he took over from his predecessor.
In a widely circulated 18-page letter, Jonathan's predecessor, Olusegun Obasanjo, accused him in 2013 of failing to deliver on promises to the Nigerian people such as defeating Boko Haram and tackling rampant corruption. Nigeria is Africa's top crude producer and largest economy, but corruption has crippled the lucrative oil sector, and many Nigerians are mired in poverty.
"Nigeria is bleeding, and the hemorrhage must be stopped," Obasanjo wrote in the letter dated Dec. 2, 2013, according to Premium Times.
© Copyright IBTimes 2023. All rights reserved.
FOLLOW MORE IBT NEWS ON THE BELOW CHANNELS