Cory Booker Sworn In To US Senate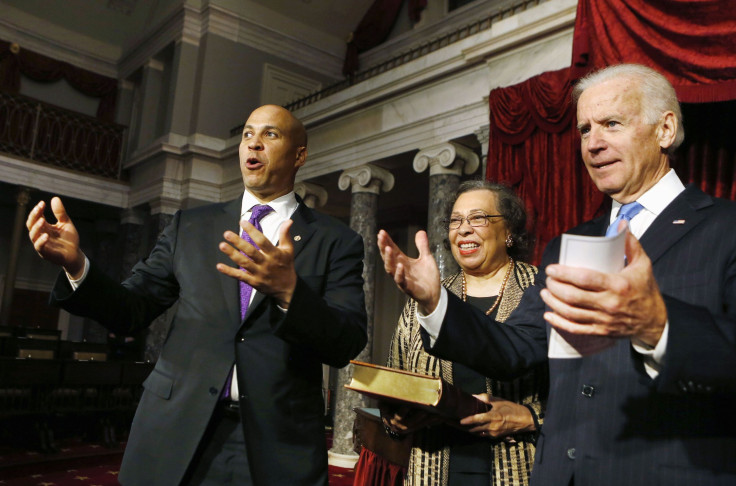 Newark Mayor Cory Booker was officially sworn in as the junior United States senator from New Jersey Thursday.
Vice President Joe Biden, as president of the Senate, administered the oath of office to Booker at the Capitol Thursday morning, as Booker's mother, Carolyn, held the Bible, Reuters reports. Minutes later, New Jersey's first black senator cast his first vote in the Senate. Widely considered a rising star in the Democratic Party, Booker, 44, is now one of two black senators, alongside South Carolina Republican Tim Scott. Booker resigned as mayor hours before taking his federal office.
Booker, Newark's major since 2006, was elected to the Senate as a Democrat following the June death of the aged Sen. Frank Lautenberg, D-N.J. Booker handily beat out Republican opponent Steve Lonegan in an Oct. 16 special election, thanks largely to his fame as Newark mayor. Throughout his time in Newark, Booker maintained a high media profile and attracted national support.
After Lautenberg's death, New Jersey Gov. Chris Christie temporarily replaced him with a Republican stand-in, his aide Jeffrey Chiesa, lowering the Democrats' control of the Senate to 54-46. Now that Booker has been sworn in, Democrats are once again at a 55-45 majority, one vote closer to the 60-vote supermajority that would grant Democrats even more power in the Senate.
As he was sworn in, Booker received an enthusiastic welcome from Majority Leader Harry Reid, D-Nev., with whom he had already met privately earlier in the day.
"I urge my fellow senators, Democrats and Republicans, to get to know this good man," Reid said on the Senate floor. "We are fortunate to have him here."
© Copyright IBTimes 2023. All rights reserved.
FOLLOW MORE IBT NEWS ON THE BELOW CHANNELS