Could Al-Qaeda In Syria Get Access To Chemical Weapons?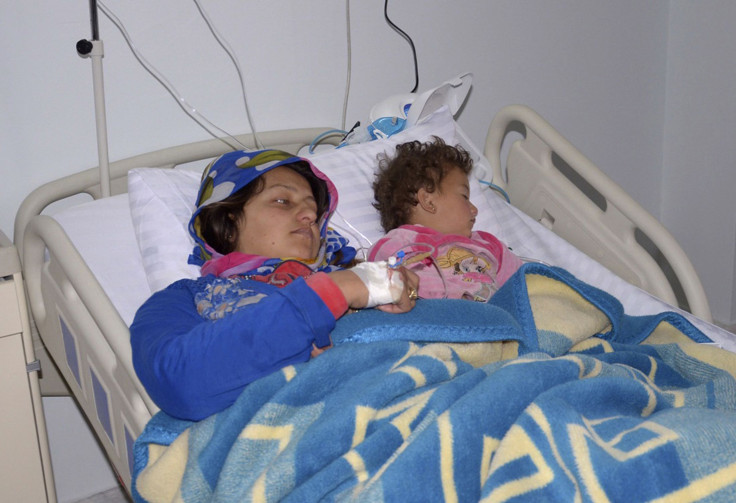 Unconfirmed reports of a chemical weapons attack near Aleppo came from the official state-run SANA Syrian news agency on Tuesday morning. Instantly both sides, the rebels and the Syrian government, began pointing fingers. The information minister, Omran al-Zoabi, accused the rebels of inciting the violence, but a rebel spokesperson, Qassim Saadeddine, told Reuters it wasn't them. There has been no evidence suggesting that the rebels have access to chemical weapons.
Only the Russian government, which has been a steadfast ally of the sitting President, Bashar al-Assad, expressed "concern" that "weapons of mass destruction are falling into the hands of the rebels."
U.S. President Barack Obama, who is due to arrive in neighboring Israel on Wednesday, has repeatedly said that any use of chemical weapons in the Syrian conflict would be a "red line" for the U.S., but White House Spokesman Jay Carney said the U.S. had seen "no evidence" of such attacks. The UK government also said it had no evidence, but reiterated that "the use of chemical weapons would demand a serious response from the international community and force us to revisit our approach so far."
The Syrian Observatory for Human Rights in the U.K. reported 26 dead in that attack, including 16 soldiers. An unnamed Reuters photographer said he saw "mostly women and children" being wheeled into hospitals in Aleppo with breathing problems, and that "people were dying in the streets and in their houses."
The presence of chemical weapons in Syria is a source of great consternation for the West, not just because of the threat to civilians during the current conflict, but because of where and with whom they might end up when the fighting resolves. The Free Syrian Army is not a cohesive body of well-trained troops, as its name suggests. Foreign mercenaries, including the jihadist al-Qaeda affiliate Jabat al-Nusra, are among the bands of young men who associate themselves with the rebels. Analysts and politicians are watching Syria's stash of chemical weapons with nervousness, afraid that they might fall into the wrong hands.
It is believed, but unconfirmed, that an attempted transfer of chemical weapons from Syria to Hezbollah in Lebanon was the reason behind Israel's bombing of a Syrian convoy late in January.
© Copyright IBTimes 2023. All rights reserved.