COVID Shot Recipients Receive Empty Syringes At Kroger In Another Vaccine Mishap
A small number of customers at a Virginia Kroger (KR) received shots of "empty" syringes instead of the COVID vaccine as part of an "honest mistake" in the latest mishap surrounding the rollout of the drug.
Kroger told WWBT, an NBC affiliate out of Richmond, that a small group of individuals visited the Little Clinic in Mechanicsville to get vaccinated with the COVID vaccine and instead received an "empty syringe," which was previously thought to have been a saline shot.
In a statement to the news outlet, Kroger said it was an "honest mistake." The company continued by saying, "All impacted customers were contacted and have now received the COVID-19 vaccine. We apologize for this oversight and the inconvenience caused for these customers."
On Wednesday, Kroger admitted to the error but mistanely said the shots were saline. However, the company nows says the shots were actually empty syringes after an in-depth investigation, WRIC, an ABC affiliate out of Richmond, reported.
A Kroger spokesperson told WRIC that less than 10 people received the empty syringes. The mixup was caused by an ordering issue but did not jeopardize anyone's health and was quickly corrected.
One individual who received the syringe filled with nothing was Carrie Hawes, who told WWBT that she received a call from Kroger explaining the mistake.
"My initial reaction was shock and surprise, and a little anxiety," she told the news outlet.
Hawes was eligible for the vaccine as part of Group 1B for people who are 55 and over, or those who are younger with underlying health conditions.
Hawes said within two hours of the call, she returned to Kroger to receive her vaccine. She added that she hopes her experience doesn't deter other people from getting their COVID shot.
"The situation was fixed," Hawes told WWBT. "I get that it's been a long year and there isn't a lot of trust sometimes in our systems and the process, but I think everyone has the best intentions and the end result is to get as many people as we can vaccinated, as quickly as we can so we can all be protective of our community."
Kroger announced on Thursday that it was ramping up its COVID vaccine efforts to administer 1 million doses per week. By the end of this week, Kroger is prjected to have administered a total of 1 million doses of the COVID vaccine throughout its 2,250 pharmacy and 220 clinic locations, Colleen Lindoholz, president of Kroger Health, said in a statement.
Kroger is one of several retailers that is offering the COVID vaccine at its pharmacies as part of the Federal Retail Pharmacy Program.
To date, the Centers for Disease Control and Prevention said it has fully vaccinated over 32.9 million people.
Shares of Kroger were trading at $34.92 as of 10:23 a.m. EST, down 32 cents or 0.91%.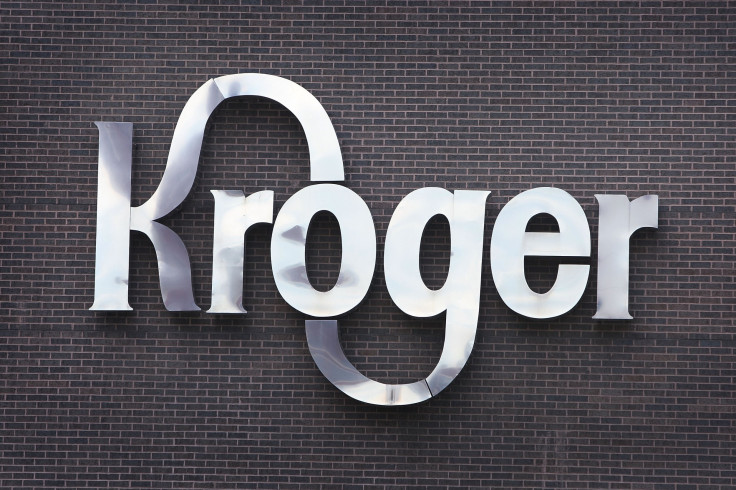 © Copyright IBTimes 2022. All rights reserved.
FOLLOW MORE IBT NEWS ON THE BELOW CHANNELS