'Crooked Weapons Perform Poorly': Russian Soldiers Mull Fleeing Ukraine War
KEY POINTS
In an intercepted call, a Russian military spokesperson was heard talking about poor supplies
He said Russian units were facing issues due to insufficient arms and military equipment
He also complained about the outdated weapons being issued
Russian soldiers are reportedly mulling laying down their weapons and fleeing the war in Ukraine amid issues they were facing in the region due to the lack of weapons.
The Main Intelligence Directorate of Ukraine's Defense Ministry shared details about an intercepted call between a Russian military spokesperson and an unspecified person, Ukrinform reported.
The details of the call were shared on Telegram on Monday.
In the call, the spokesperson said Russian invaders were facing issues due to insufficient arms and military equipment supplies in Ukraine's front lines.
The Russian military serviceman spoke about poor supplies to new units being deployed in combat positions.
"The rookies got no clothes, no sleeping bags, nothing... They're like hobos," he noted.
He also complained about the outdated weaponry issued to their unit. The serviceman said some of the weapon samples they received had been produced back in 1976-1978. The "crooked weapons perform poorly," the invader said.
In another intercepted call, a Russian soldier was heard saying Moscow's officers and contractors were contemplating fleeing the war.
The war in Ukraine has been ongoing since Feb. 24, and has claimed the lives of several soldiers and civilians.
For weeks, reports have surfaced of Russian forces resorting to various means to bring more fighters to defend their country. They have allegedly offered money and security to those willing to fight for them in the war.
Last month, Serhii Haidai, Head of the Luhansk Oblast Military Administration, said Russian occupiers were waiting outside of kindergartens in some Ukrainian cities to find "young parents," and make them join the fight.
"In the city of Luhansk, men have for a long time avoided going outside unless necessary. Many have left the city altogether and are lying low in villages," Haidai wrote on Telegram at the time.
According to Ukraine's forces, the Russian military has faced several losses over the last few months. The Ukrainian Armed Forces said they killed over 450 Russian occupiers on Saturday alone. The total number of Russian casualties for the seventh month of the war is 49,500 personnel killed.
Meanwhile, a Russian soldier last month spoke about the heavy losses his comrades have been facing in the war in Ukraine.
"A week ago, our company commander and his deputy were wounded, they were not saved. Then their bodies were put in bags and sent somewhere," the Russian soldier told his mother during the call, according to an English translation by Ukrinform.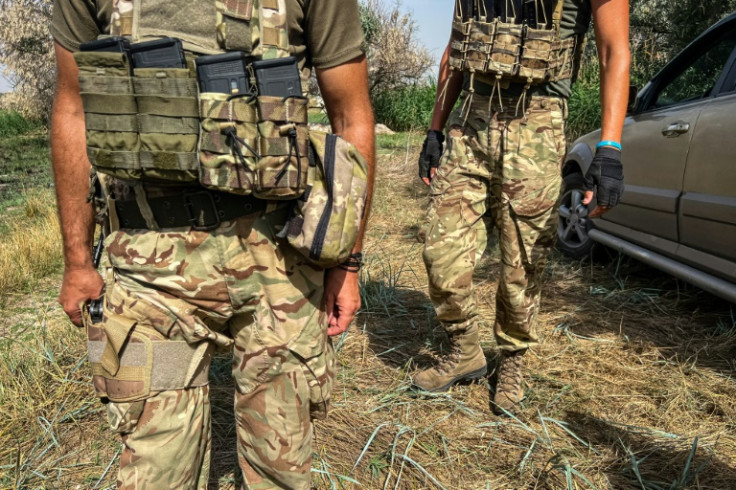 © Copyright IBTimes 2022. All rights reserved.
FOLLOW MORE IBT NEWS ON THE BELOW CHANNELS