Obama Cuba Trip Live Updates: Raul Castro Meeting Comes Amid Human Rights Protests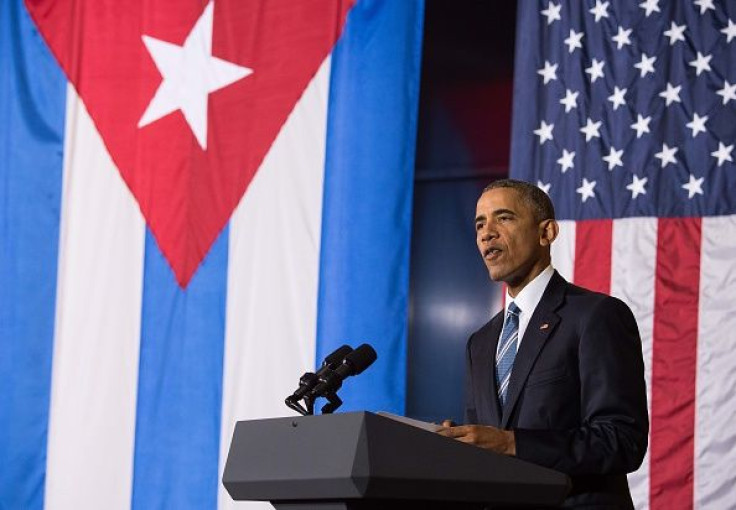 UPDATE: 4:20 p.m. EDT — The White House is sharing rarely seen photos of Cuba on Twitter and Facebook during President Barack Obama's trip to the island nation. Only 5 percent of Cubans have access to the open internet.
Obama addressed the Cuban people Monday during a news conference with Cuban President Raul Castro. Read the full text of his speech here.
UPDATE: 3:21 p.m. EDT — A historic news conference with President Barack Obama and Cuban President Raul Castro in Havana on Monday ended with an awkward gesture. After Castro denied that Cuba has political prisoners and interrupted Obama at one point, Castro ended the media event by grabbing Obama's arm and waving it.
UPDATE: 3:02 p.m. EDT — Cuban President Raul Castro said human rights should not be politicized and that no country fully provides universal human rights. He noted that Cuban babies are born in hospitals and that Cuba values equal rights for women.
UPDATE: 2:46 p.m. EDT — Cuban President Raul Castro denied Monday that his government has incarcerated political prisoners, hours after officials arrested protesters over the weekend. Human rights groups have also noted that his regime has oppressed free speech.
Castro spoke during a historic press conference with President Barack Obama, who said Cuba was not a threat to the U.S. despite differences over human rights.
UPDATE: 2:25 p.m. EDT — The United States is ready to pursue commercial ties with Cuba and bring jobs to Cubans, President Barack Obama said Monday during a press conference while on a historic trip to Havana. Obama also praised Cuba's faith, food and attractions after meeting with Cuban President Raul Castro.
"It's a new day," Obama said in Spanish.
Obama said Cuba remains a sovereign nation, with great pride, that will decide its own future, but he said he has made it clear the U.S. will continue to call for human rights such as freedom of speech.
UPDATE: 2:10 p.m. EDT — Cuban President Raul Castro urged the U.S. to end economic sanctions against Cuba Monday after meeting with President Barack Obama, calling the embargo the biggest challenge to normalizing relations between Havana and Washington, and improving the lives of everyday Cubans.
"The blockade is the most important obstacle to the economic development and well-being of the Cuban people," Castro said.
UPDATE: 1:35 p.m. EDT — President Barack Obama said his historic trip to Cuba this week was "humbling" after he and his family were greeted by excited Cubans. Some critics of the Obama administration's Cuba policies, however, were upset that the president posed for a picture near art representing revolutionary leader Ernesto "Che" Guevara in Havana.
The White House sent out the following message from Obama Monday:
"¡Hola desde Cuba! Michelle, the girls, and I are here in Havana on our first full day in Cuba. Cubans have lined the streets to welcome us, and it's humbling to be the first U.S. president in nearly 90 years to visit a country and a people just 90 miles from our shores.
"Like so many Americans, I've only known the isolation that has existed between our two governments. I was born in 1961, the year of the Bay of Pigs invasion. A year later, a Cold War confrontation over Cuba pushed the world as close as it's ever been to nuclear war. As the decades passed, the mistrust between our governments resulted in heartache for our two peoples, including Cuban Americans, many of whom have endured decades of separation from their homeland and relatives.
"I've come to Havana to extend the hand of friendship to the Cuban people. I'm here to bury the last vestige of the Cold War in the Americas and to forge a new era of understanding to help improve the daily lives of the Cuban people.
"There continue to be real and important differences between our governments, including profound differences on the way to promote safety, security, opportunity, and human rights. But there's so much Americans and Cubans share — our cultures and passions, our hopes for the future, not to mention a love of baseball.
"I know one visit, and one president, cannot erase the decades of history that have left so many Cubans in poverty or exile. But sometimes the most important changes begin with the smallest step. I believe in the Cuban people and their desire to build a future of their own choosing. And I believe that changing the way we do things between our countries will, over time, help make that possible.
"So I'm looking forward to meeting and hearing directly from Cubans from all walks of life. And I'm confident that, working together with the Cuban people, our two countries can begin a new journey together that delivers progress for both our peoples."
UPDATE: 12:40 p.m. EDT — Western Union announced Monday it would expand its service handling money transfers to Cuba amid new relations between Havana and Washington. Western Union already handles remittances from the United States to Cuba and will soon begin allowing remittances from other countries into Cuba under new Obama administration policies, the Associated Press reported.
UPDATE: 12:20 p.m. EDT — Candidates looking to replace President Barack Obama in the White House are weighing in on his historic visit to Cuba. Democratic Vermont Sen. Bernie Sanders, who has praised the Castro regime in the past, said Obama was "making history by traveling to Cuba and moving relations between our two countries into a new era."
"This is an approach that is long overdue. ... Fifty years of Cold War is enough. It is time for Cuba and the United States to turn the page and normalize relations," Sanders said.
Meanwhile, Republican front-runner Donald Trump noted Cuban President Raul Castro did not greet Obama upon his arrival at the international airport in Havana.
UPDATE: 11:30 a.m. EDT — President Barack Obama has called his trip to Cuba a "Berlin Wall moment," and many watching him visit the island nation's Palace of the Revolution on Tuesday morning for a historic meeting with Cuban President Raul Castro agreed. Critics, however, have urged Obama to push Castro to create a more open Cuba where dissidents aren't arrested for expressing their political views.
UPDATE: 10:56 a.m. EDT — A historic meeting between President Barack Obama and Cuban President Raul Castro in Havana Monday opened with the Cuban and American national anthems. Secretary of State John Kerry was also present for the first meeting on Cuban soil between the world leaders.
Most Americans support re-establishing diplomatic relations with Cuba, a New York Times/CBS News poll has found. About 62 percent of Americans said they backed reopening ties, but only 40 percent said it would lead to more democracy for Cuba.
The telephone poll was conducted on landlines and cellphones March 11-15. It surveyed 1,022 adults and has a margin of sampling error of plus or minus 3 percentage points.
UPDATE: 10:20 a.m. EDT — President Barack Obama traveled to Cuba on Sunday with Democratic Minority Leader Nancy Pelosi and 15 other House Democrats. The House delegation includes Reps. Karen Bass, Cheri Bustos, Sam Farr, Rosa DeLauro, Barbara Lee, Charles Rangel, Kathy Castor, David Cicilline, Steve Cohen, Jan Schakowsky, Peter Welch, Alan Lowenthal and Jim McGovern, Politico reported.
In the Senate, Amy Klobuchar of Minnesota, Dick Durbin of Illinois, Heidi Heitkamp of North Dakota, Patrick Leahy of Vermont, and Tom Udall of New Mexico also made the trip. Sen. Jeff Flake, R-Ariz., who has been a leading advocate for normalizing relations with Cuba, was also scheduled to attend.
UPDATE: 9:28 a.m. EDT — President Barack Obama will pay tribute Monday to Cuban independence hero José Martí. The writer is one of the most famous names in Cuba as the father of Cuban independence from Spain. For most of his life, Martí lived in exile in New York working as a foreign correspondent.
"José Martí is our national hero — he was a man who died for Cuba literally, and he was a very talented poet and writer. He wanted liberty for Cuba, he wanted Cubans to be free, to have freedom of expression, to have freedom of association. He wanted a free democratic Cuba. That's José Martí," Karen Caballero, a reporter for Radio TV Marti, told Al Jazeera last year. Read more about Martí here.
Original Story:
U.S. President Barack Obama will hold a historic meeting with Cuban President Raul Castro in Havana Monday to discuss economic and democratic reforms, and U.S. economic sanctions. The reunion marks the fourth meeting between the world leaders amid improving relations between Washington and Havana after decades of silence.
Obama will meet with Castro at the Palace of the Revolution, the seat of Cuba's government and continuing revolution that has seen the island nation remain locked in poverty under an authoritarian regime since 1959. Castro and Obama agreed to renew ties between the U.S. and Cuba 15 months ago, ending the Cold War-era dispute between the two nations. The meeting is unfolding after police confronted protesters who marched across Havana on Sunday, calling for greater freedoms.
Obama is expected to demand more free speech rights from Castro's Communist government, as well as changes to its Soviet-style economy, including greater access to the Internet for Cubans.
"One of the things that we'll be announcing here is that Google has a deal to start setting up more Wi-Fi and broadband access on the island," Obama told ABC News in an interview that aired Monday.
Technology Prevalence in Cuba Over Time | FindTheData
Castro has said Cuba will not change its political culture and has urged the U.S. to end its economic embargo against the island. Obama opposes the embargo, but only Congress can end it.
"We think the U.S. government can take more steps to send clear and direct signals in this direction," Foreign Trade Minister Rodrigo Malmierca told reporters Sunday.
Obama has a busy schedule for his remaining two days in Cuba. After sightseeing in Old Havana Sunday night, he is expected to visit the José Martí Memorial, the Palace of the Revolution and then hold a one-on-one meeting with Cuban President Raul Castro Monday morning. Later Monday, he will meet with other Cuban officials, hold a press conference and attend a state dinner at the Palace of the Revolution around 7:25 p.m.
Obama departs Cuba Tuesday, but first he will address the Cuban people at the El Gran Teatro de Havana and meet with dissidents and civil society leaders. He will also attend a baseball game between the Tampa Bay Rays and the Cuban National Team at Estadio Latinoamericano at 2 p.m. He leaves Cuba from José Martí International Airport en route to Buenos Aires, Argentina.
Obama is the first U.S. president to travel to Cuba in nearly 90 years.
© Copyright IBTimes 2023. All rights reserved.
FOLLOW MORE IBT NEWS ON THE BELOW CHANNELS