Black Lives Matter, Gay Marriage And The NFL: How Sports Fans And Athletes Are Sparking Social Changes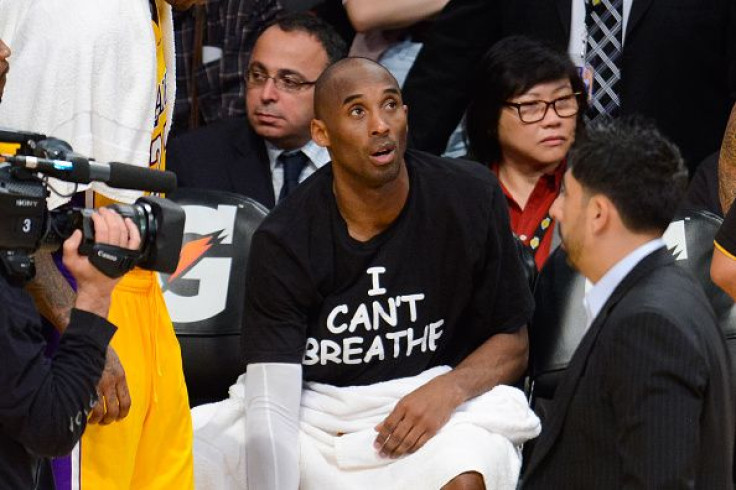 The text messages, voicemails and locker room jeers aimed at Miami Dolphins lineman Jonathan Martin detailed explicit sex acts involving his sister, a homophobic slur and, in at least once instance, a phone call from a white player that said, in part, "Hey, wassup, you half-n----- piece of s---." The harassment from his teammates pushed Martin, who is black, to leave the team in October 2013 and triggered a report commissioned by the National Football League that sparked a firestorm of criticism among fans and the media.
Three years later, Dolphins owner Stephen Ross said this week the controversy motivated him to start a nonprofit organization in October aimed at combating racism in sports.
"I think today there's a new standard with regards to sports, because when you start seeing all these abuses, or domestic violence, or racism — [people] really look to the leagues now, I think to have a standard," Ross said.
Sports franchises and pro leagues are increasingly tackling social issues through foundations, public initiatives and ad campaigns as players and fans, bolstered by social media, push topics like domestic violence, racism and LGBT rights into the consciousness of the sports world. But as teams and leagues take action, officials said they must also navigate a careful line between being socially responsible and alienating fans who might have a different view on a controversial subject.
"I think there's more responsibility on our standpoint to really understand the issues and to take a stand on them and to see what we can do to help improve the situation. And that never really existed before, but I think today, with social media, the way it is today, and the news and the way of reporting, you'll see a lot more social responsibility," Ross said during a panel at the first-ever Social Responsibility of Sports Conference at New York University in New York City, which brought together industry leaders, including league commissioners, to talk social responsibility in sports.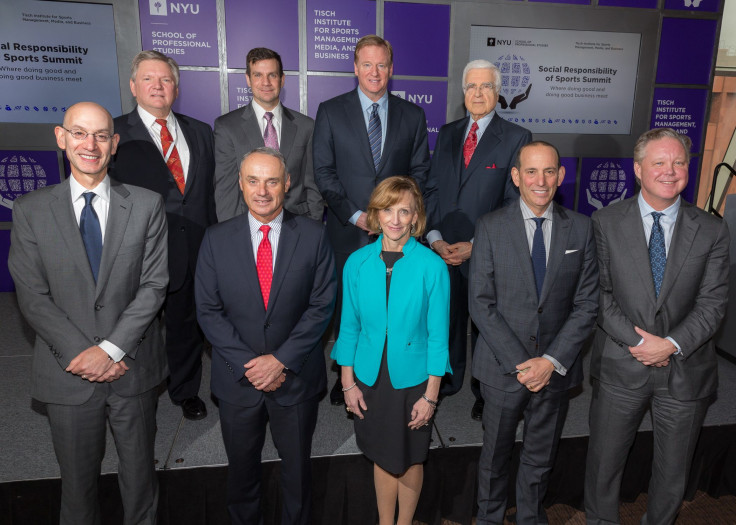 There have long been examples of athletes taking high-profile stances on social issues. Track stars Tommie Smith and John Carlos raised their fists in the name of black power on the medals podium during the 1968 Olympics in Mexico City and were stripped of their medals. Legendary boxer Muhammad Ali refused to be drafted into the Army as a conscientious objector during the Vietnam War and was banned from the sport. More recently, NBA superstars LeBron James, Kobe Bryant and Derrick Rose wore "I can't breathe" T-shirts in memory of an unarmed black man, Eric Garner, who was killed in a chokehold during a confrontation with New York police in 2014.
Before that, James in 2012 made it a point to wear a hoodie along with his then-teammate Dwayne Wade and other Miami Heat players in memory of unarmed black Florida teenager Trayvon Martin, who was shot and killed by a neighborhood watch volunteer. Last year, Seattle Seahawks star cornerback Richard Sherman called for more athletes to use their platform as sports heroes to take a stand on social issues, saying, "I think if we did have more guys that spoke up on those types of things, we'd be in a better place as a society and as a culture."
The increase in professional athletes tackling social issues coincides with a growing interest among fans on social media on issues such as the #BlackLivesMatter social justice movement, LBGT rights, including same-sex marriage, domestic violence and the dangerous long-term effects of concussions. While some athletes in the past, like Smith, Carlos and Ali, were cast aside for attempting to effect social change, modern athletes, alongside fans, have helped push leagues and teams toward making changes, experts and officials said.
Boston Red Sox President Sam Kennedy said this week at the Social Responsibility of Sports Conference that his franchise had to focus on making sure everyone feels welcome, while also tackling a troubling history on the specific issue of race.
"If we're not inclusive, we're going to fail, we will not be successful. The Boston Red Sox obviously have a shameful past when it comes to the issue of race relations — the last team in Major League Baseball to integrate, absolutely despicable," Kennedy said. "We're going to do everything in our power to make sure Fenway Park, our front office, and our team is inclusive, and we welcome everyone to be a part of Red Sox Nation."
The Red Sox now have community programs aimed at Latino fans, have hosted a Pride Night put on by a local LGBT organization and, in an acknowledgement of their past struggles with race, the team invited the head of the National Urban League at one point to throw out the first pitch at a game.
Other franchises and leagues as a whole have increasingly taken certain stances to show fans they're aware of social issues. The New York Mets recently announced the first-ever LGBT pride night in the New York pro sports market, for instance, which was soon followed by the news of a partnership between the MLB and the National Gay & Lesbian Chamber of Commerce aimed at securing related certified businesses as official suppliers for the league. After a slew of high-profile domestic-abuse incidents, the NFL partnered in 2014 with an anti-domestic-violence coalition called No More and consulted with the CEO of the National Network to End Domestic Violence.
"I think it's a way to show that the leagues care about these kind of things, and kind of defeat any of the negative publicity that's swirling around these kind of issues," said Bob Dorfman, a sports marketing expert at Baker Street Advertising in San Francisco. "And it's also, bigger picture, trying to take a stand and show support to a wide body of fans."
Such efforts could be the result of pressure from the public at large, especially younger fans who force power brokers to make changes. It's a pattern that has played out for major corporations and big sports leagues, said Brian Ellner, a founding board member of nonprofit organization Athlete Ally, during the NYU panel. "I think it's actually the millennials and their activism, much of it on social media, that is moving corporations and is moving others," he said.
Sports fans are much more likely to be engaged on social platforms than the general public. Sports events made up just 1.4 percent of television programming last year, but accounted for 50 percent of Twitter conversation about TV, according to Nielsen data. If there's a controversy brewing about a social issue, or fans want to be heard, they're more likely to be experienced with social media avenues.
That's not to say that sports fans are pushing, as a unified group, for leagues to take up social causes. "I think that there's a core fan for whom this kind of thing doesn't matter, but I do think there are other fans for whom this is important," said Big East Conference Commissioner Val Ackerman.
Officials said they must find a balance between drawing in more fans with social stances without losing fans by injecting politics into a game or by disagreeing with their views. NBA franchises might be more likely to address the Black Lives Matter movement, for instance, considering that 45 percent of its audience is black and the same percentage is under 35, according to Nielsen data. A sport like Nascar, with a 94 percent white fandom, is unlikely to address it. And with LGBT issues, major, liberal-leaning urban markets like Los Angeles, Chicago and San Francisco have been quicker to show support.
Even after NBA stars wore T-shirts to highlight Garner's death, the league's commissioner, Adam Silver, responded with a careful statement. He didn't fine the players or ban the shirts, which indicated a measure of support, but said he preferred they follow league guidelines for pre-game dress code.
On the football field, the NFL's Washington Redskins have long been the subject of controversy for their team name that some deem a slur against Native Americans. But Washington fans have stuck steadfastly behind the franchise, so change hasn't come.
"The point of a company is to make money, so I don't know that people care that much," said Domonique Foxworth, a former National Football League Players Association president and NFL player. "What comes to mind, for me, is the team in Washington. There's no impact on their bottom line, they're one of the most highly valued teams in all of professional sports."
But for some, these sorts of so-called "cause marketing efforts," in which major industry players sign on with social movements, are important. "I've done some work with the women's sports area and we found that cause marketing clearly did help build a brand and kind of helped female fans identify further with the players," Ackerman said.
In many sports markets, sports leagues and teams embraced LGBT rights after a majority of the country shifted toward accepting same-sex marriage. It's a pattern that could play out more in the future as players and fans continue to demand social awareness from their favorite franchises.
"I think you'll be seeing a lot more of it, a Black Lives Matter night at a park, anti-domestic violence nights at games," Dorfman said.
© Copyright IBTimes 2023. All rights reserved.
FOLLOW MORE IBT NEWS ON THE BELOW CHANNELS