Cuban Baseball Live Stream: Tampa Bay Rays Start Time, Opening Ceremony And First Pitch Against National Team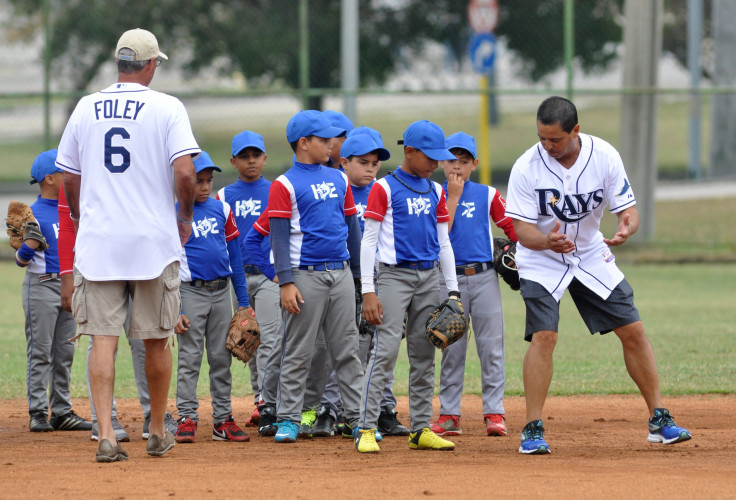 President Barack Obama will get a chance after his historic address to the Cuban people Tuesday to sit back and enjoy America's national pastime. The Tampa Bay Rays will take on the Cuban national team in an exhibition match in Havana as part of the presidential trip, which aims to reopen and normalize relations between the two neighbors.
Approximately 55,000 people are expected to fill the Estadio Latinoamericano to watch the game. Coverage begins at 1:30 p.m. EDT, with the first pitch expected at 2 p.m. Pregame ceremonies are available online for free here, as well as part of the first inning. The rest of the game is available online by subscription through MLB.tv, and live coverage of the full event is also available through ESPN. The game also will be broadcast on radio, with local station listings here.
The game is full of symbolism and family history, with former Rays player Eduardo Perez working as a broadcaster for the event. Perez's father, Tony, was born in Cuba. Current Rays outfielder Dayron Varona and his mother fled Cuba traveling nearly 12 hours by boat in order for him to follow his dream of playing Major League Baseball.
Obama will be watching the game along with Baseball Commissioner Rob Manfred and famous current and former players, including Joe Torre, Derek Jeter, Luis Tiant and Jose Cardenal. Along with American businesses, MLB has started working with the Cuban government to find a way to bring players to the U.S. and ease current rules. There are currently 18 Cubans playing in the majors, making the island nation the third-most represented foreign country, following the Dominican Republic and Venezuela.
The last time MLB played an exhibition game in Cuba was in March 1999, when the Baltimore Orioles took on the Cuban national team. The game went 11 innings with Baltimore wining 3-2. A few months later in May 1999, the Cuban team traveled to the U.S. and ended up defeating the Orioles 12-6, ESPN reported.
© Copyright IBTimes 2023. All rights reserved.
FOLLOW MORE IBT NEWS ON THE BELOW CHANNELS