In Cuba Speech, Obama Condemns Brussels Terror, Extends 'Hand Of Friendship' To Cubans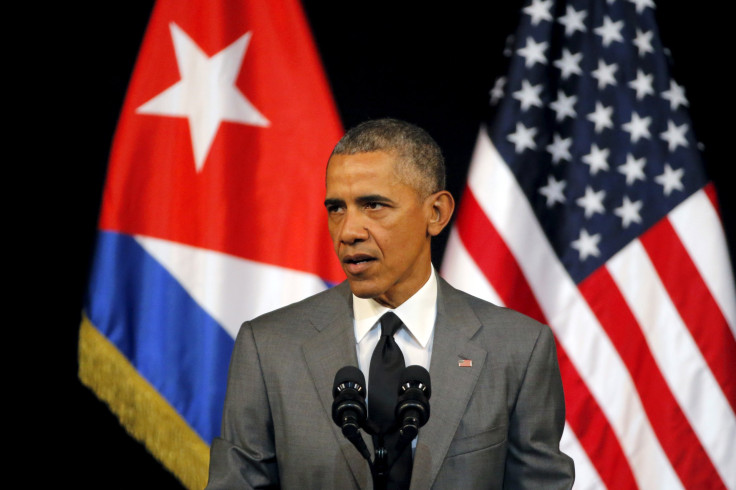 In a speech that was intended to cap his historic visit to Cuba, U.S. President Barack Obama instead began by addressing the series of attacks in Brussels on Tuesday that killed more than 30 people and left scores wounded. "The thoughts and prayers of the American people are with the people of Belgium," Obama said in his address at the El Gran Teatro de Habana in the Cuban capital.
No group immediately claimed responsibility for the Brussels attacks at the time of Obama's address. Two explosions rocked Brussels' Zaventem airport in the early morning local time, and less than an hour later a third explosion hit the Maelbeek metro station, close to the city's European Union buildings.
Obama, who spoke with Belgium Prime Minister Charles Michel Tuesday, added the U.S. stood in solidarity with the nation and would do whatever was necessary to help. "This is another reminder that the world must unite" against the scourge of terrorism, Obama said. "We can and will defeat those who threaten the safety and security of people all around the world."
Obama's address to the Cuban people was planned as an opportunity to acknowledge a complicated history between the U.S. and Cuba, with his trip the first visit by a sitting U.S. president in nearly 90 years. After he addressed the Brussels attacks, Obama discussed the U.S.'s relations with Cuba.
"I have come here to bury the last remnant of the Cold War in the Americas," he said.
Last year Obama's administration began working to normalize relations between the countries and began lifting Cold War-era restrictions on the communist nation.
"Havana is only 90 miles from Florida, but to get here we had to travel a great distance," Obama said. The president also called the embargo between the two nations an "outdated burden."
"It's time to lift the embargo," he said. "But even if we lifted the embargo tomorrow Cubans would not realize their potential without changes here in Cuba."
Ben Rhodes, the White House deputy national security adviser, told reporters in an advance briefing of the Cuba trip that Obama's speech would "lay out his vision for how the United States and Cubans can work together, to how the Cuban people can pursue a better life." Much of the focus from Obama was on finding a way to give the Cuban people greater freedom.
"I believe in the Cuban people," Obama said Tuesday in both Spanish and English. "I have come here to normalize relations with the Cuban people ... We have a monument to what the Cuban people can build. It's called Miami."
Obama, who talked with Cuban President Raúl Castro in Havana on Monday, was expected to meet with members of Cuba's civil society after his speech Tuesday. Obama and Castro have disagreed publicly over what constitutes human rights, Castro arguing Monday that the U.S.'s failure to provide universal healthcare and free education to all citizens could be considered a human rights issue. A recent Human Rights Watch report criticized Cuba for harassing and intimidating its people for exercising their rights.
In stating what he believed and how he trusted in democracy, Obama seemed to address such issues Tuesday. With Castro among the audience, Obama stressed the importance of free speech and democratic elections.
"I believe that every person should be equal under the law," he said. "I believe citizens should be free to speak their mind without fear."
© Copyright IBTimes 2023. All rights reserved.