Cuban Gays Show Pride In March And Mass Symbolic Wedding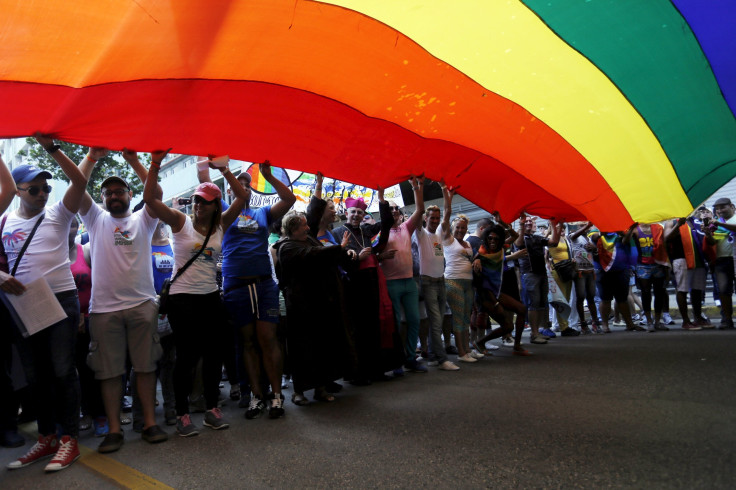 HAVANA (Reuters) - More than 1,000 gay, lesbian and transgender Cubans marched through Havana on Saturday, proudly displaying their truest selves for a day in a society where they still endure discrimination.
The Eighth Annual March against Homophobia and Transphobia took on extra meaning this year for about 20 couples who participated in a "Celebration of Love," symbolically exchanging vows as same-sex marriage remains illegal in Cuba.
Religious leaders from Cuba and abroad huddled with couples in a crowded pavilion in a ceremony inspired by the mass wedding of more than 100 couples at the World Pride event in Toronto last June.
"Our family accepts us but society doesn't," said Raul Orta, who "married" his partner of 13 years, Yaimel Medina. "If one us is no longer here tomorrow, the other one loses everything. That's not right."
The parade, with the beat of conga drums and the waving of rainbow-colored banners, gave gay Cubans and their supporters a rare opportunity to celebrate without fear.
"For eight years we've been living a dream we never thought would have been possible," Orta said of the parade.
For Cubans from the provinces, the open display in Havana was even more liberating.
"In the interior of the country, you couldn't even dream about an event like this," said Raiza Marmol, who moved from Camaguey two years ago and exchanged vows with her partner of two years, Yatiana Garcia. "It's a unique event and surprising for gays who can show their faces without having to hide from anyone."
Cuba once sent gays to labor camps in the early years after the 1959 revolution, which retired leader later Fidel Castro admitted was wrong.
Cuban gays have made great strides in recent years with help from Mariela Castro, the daughter of current President Raul Castro and niece of Fidel. She is a member of the National Assembly and head of the National Center for Sex Education.
The National Assembly last year approved a labor law that banned discrimination based on sexual orientation. But Mariela Castro voted against the law in an extremely rare and possibly unprecedented dissenting vote because the law did not also ban discrimination based on gender identity.
Elsewhere in Latin America, Argentina and Uruguay have legalized same-sex marriage, as has Mexico City, but in Cuba marriage remains a distant goal.
"It's not important for us to be first. It's important to get there," Mariela Castro told reporters.
© Copyright Thomson Reuters 2023. All rights reserved.