Cuban Migrant Crisis: Mexico Navy Rescues 9 Adrift At Sea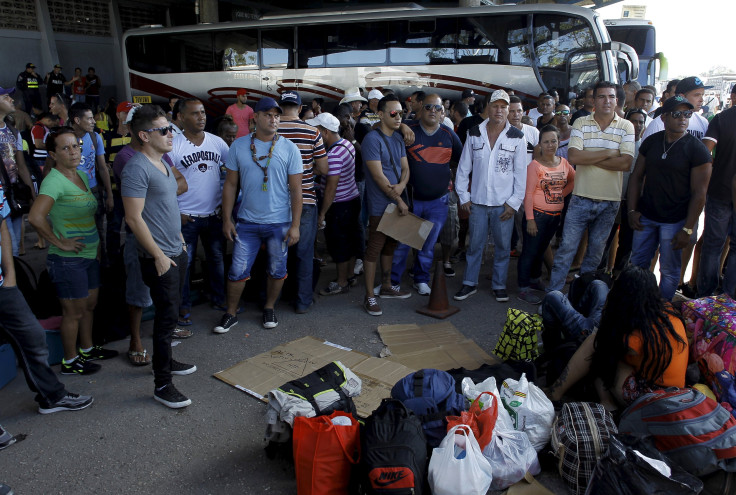 Mexico's navy rescued nine Cuban refugees this week from a makeshift boat found adrift in the Caribbean off the Yucatán Peninsula, officials said Thursday. The tanker ship Chem Venus picked up the seven men and two women some 30 miles off the resort island Isla Mujeres, which is near Cancún.
The refugees were turned over to the National Migration Institute, which typically gives Cubans a 20-day transit visa to continue their journey through Mexico to the U.S. border, Agence France-Presse reported.
In a statement, officials said the Cubans were in "good health." The navy released photos of them disembarking from the tanker onto a navy vessel using a rope ladder.
The sea route the nine Cubans took used to be commonly used by refugees, but many in recent months have opted for the 7,000-mile land route from Ecuador up through Mexico, where they can cross the U.S.-Mexican border visa-free, the Associated Press reported. The overland trek left nearly 8,000 migrants stranded in Costa Rica after Nicaragua closed its borders.
Asylum-Seekers from Cuba by Country in 2015 | FindTheData
Central American countries struck a deal in late December to allow the stranded migrants to travel onward to the U.S., first airlifting them to El Salvador before arranging ground transportation to take them to Mexico where they were to be given 20-day transit visas. The first such flight was to take off Monday, bearing 180 refugees. Following flights won't be scheduled until the success of the first group's journey is gauged.
The countries have seen an influx of Cubans since relations between Cuba and the U.S. began improving. The refugees have been worried the deterioration of the decades-long hostility between the two nations could prompt the U.S. to end its policy of providing preferential asylum rights to Cubans who enter the country.
© Copyright IBTimes 2023. All rights reserved.
FOLLOW MORE IBT NEWS ON THE BELOW CHANNELS