Cuts, Delays And Propaganda: China's Media Reverts To Old Ways To Cover Xi Jinping's 'New Look' US Trip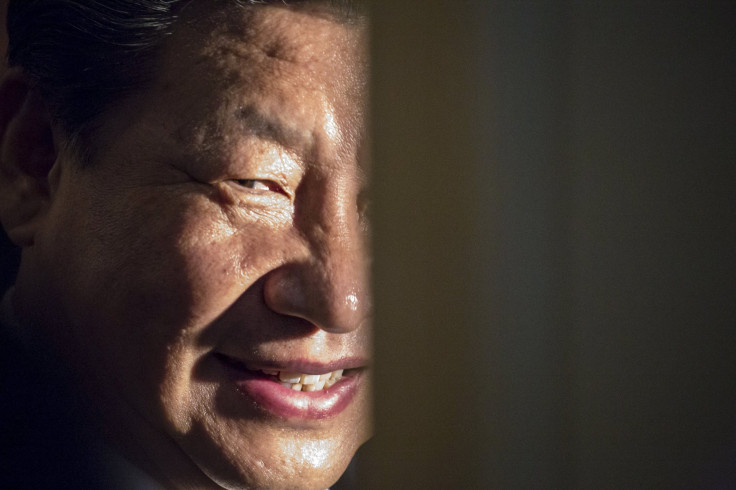 SHANGHAI -- The headline news on Chinese state television at noon on Thursday, local time, was President Xi Jinping's speech at the opening banquet of his U.S. visit -- which had taken place in Seattle more than 26 hours earlier. His much more recent meeting with U.S. Internet tycoons, photos of which were already trending globally online, was only mentioned in a brief report read out by the newsreader.
Xi may have come to the U.S. to talk about a "new kind of great power relationship," as he likes to describe China's links with the U.S., but for some parts of China's state-controlled media at least, it was very much business as usual. In a country where the president's image is carefully controlled, and where he rarely makes speeches in public, China Central Television (CCTV), it seemed, needed time to select which parts of Xi's comments -- billed as the only major policy speech of his trip -- to highlight.
It was a reminder that while Xi's entourage included some of the country's top new media tycoons -- who met with their U.S. counterparts at Microsoft's headquarters in Redmond -- there are still some parts of China's media which stick to a very old-style approach, harking back to the Communist Party's traditional view of the media as a propaganda mouthpiece. This is particularly the case when it comes to reporting major state events such as a state visit -- especially at a time when the public perception back home is particularly important to the Chinese president, as he seeks to emphasize his leadership skills in a time of economic and other challenges.
That may be one reason why CCTV ignored Xi's comment that China's anti-corruption campaign is not a political struggle in the style of the Netflix drama "House of Cards" -- a reference which had been widely reported and discussed in international media -- and also did not report his more personal remarks about loving the novels of Ernest Hemingway, and drinking a mojito in his honor in Cuba. Analysts say that while Chinese leaders often seek to project a more relaxed image internationally, at home they remain keen to convey a more serious, powerful image. And so CCTV highlighted Xi's frequently repeated slogan about helping China's people achieve what he calls the "Chinese Dream," as well as his pledges to continue reforming the economy.
Even the style of the news report was distinctly old-school, most of Xi's speech being paraphrased by the announcer over pictures of the president talking; the only time viewers heard Xi's voice was a short soundbite in which he promised more exchanges of students and more tourist links between China and the U.S. -- followed by a standing ovation from the audience. CCTV's other main report in its bulletin was not about Xi's other meetings, but focused on his wife Peng Liyuan -- who is popular among ordinary people in China, and is seen as softening Xi's austere image -- showing her visiting a cancer and HIV research center, in the company of Bill and Melinda Gates.
The careful selection of content was a continuation of the previous day's CCTV news bulletin, which reported a speech by U.S. National Security Advisor Susan Rice, and highlighted her comments on the positive potential of U.S.-China relations -- but ignored her strongly worded criticism of Chinese hacking, which she said was "a matter of economic and national security concern to the U.S.," and "puts enormous strain on our bilateral relationship."
CCTV reports also highlighted American interest in Xi's visit, describing it as "the most talked about event in the U.S. this week," without referring to the media frenzy surrounding Pope Francis' visit. And the network also focused on an interview Xi gave to the Wall Street Journal on the eve of his visit, and emphasized that copies of the paper, with the report of the interview on the front page, had sold out on many newsstands. A CCTV reporter even visited the Journal's Washington, D.C., bureau to interview bureau chief Jerry Seib about the interview. Seib was shown saying that Xi's way of communicating was "a little more open, a little less formal" compared to Chinese leaders in the past. The report didn't mention that Xi, who rarely speaks to foreign media, had only given written answers to the Journal's questions -- whereas his predecessors had often given face-to-face interviews; Former Chinese President Jiang Zemin famously appeared on CBS' 60 Minutes with Mike Wallace in 2000.
However, analysts say CCTV's heavily controlled approach to news has little appeal to many members of China's young generation, who get much of their news online -- and many less traditional Chinese media took a more populist approach. Shanghai-based news website the Paper, for example, highlighted images of Xi meeting American football players on his visit to a high school in Tacoma, Washington. And major web portal Sina.com reported Xi's comments on "House of Cards" -- Season 2 of which was hugely popular when shown in China online last year, even though -- or possibly because -- one of its main characters was a corrupt Chinese businessman with links to the leadership, something rarely seen in Chinese domestic TV shows.
Shanghai's Oriental Morning Post, meanwhile, featured a front page commentary from Professor Shen Dingli, an academic known for expressing his own opinions rather than simply official slogans. Shen called on both China and the U.S. to exercise their global power peacefully, stressing that big nations should not bully smaller ones.
However, other sections of the Chinese media revealed some of the tensions that loom behind the polite words of Xi's speech. Writing in the Global Times, a tabloid published by the official People's Daily, one academic said that contentious issues expected to be discussed when Xi meets U.S. President Barack Obama, such as cyberspying and tensions over Chinese construction in disputed waters in the South China Sea, were "trivial matters" and people who raised them were "unscrupulous." He also criticized the U.S. for not sending a senior official to the recent military parade in Beijing marking the 70th anniversary of the end of Japan's occupation of China -- and said the U.S. political elite lacked "sufficient historical responsibility" and "sufficient strategic courage to create a harmonious atmosphere for the two largest economies in the world to cooperate."
Nevertheless, the People's Daily itself did manage to locate some friendlier foreign voices -- releasing a bilingual online video in which a group of foreign students studying at universities in Beijing praised Xi -- who they describe by his popular nickname Xi Dada, or Big Daddy Xi -- as, among other things, cute, wise, humble and resolute. One American student said he was "handsome and super charismatic," while a South Korean student said she would be very lucky if the man she married was like the Chinese leader. There was no reference to the crackdown on civil liberties that Xi has presided over, which human rights groups describe as the worst China has seen for some two decades.
The slickly edited video was a reminder of the combination of "positive energy" -- Xi's new euphemism for propaganda -- and modern techniques that China's leader seeks from the nation's media. And in another sign of China's growing effort to put its message across internationally, its official English-language newspaper, the China Daily, announced that it had arranged for a 48-page supplement on China to be included in the print editions and websites of the Washington Post, the Wall Street Journal and the Seattle Times, "the first time that a media organization from China has supplied news pages on such a large scale to leading foreign newspapers during a major event."
China has also paid for a 30-second film to be screened on a giant billboard in Times Square during Xi's visit. The film, made by the Chinese People's Association for Friendship with Foreign Countries, under the title "Different but not distant," depicts what the China Daily described as "symbols of Chinese and American culture, including Chinese calligraphy, an American cowboy, a Peking opera singer and Western and Chinese chess boards."
© Copyright IBTimes 2023. All rights reserved.
FOLLOW MORE IBT NEWS ON THE BELOW CHANNELS