Cyclone Vardah Update 2016: At Least 7 Killed In Chennai By Deadly Storm
A deadly cyclone made landfall in India on Monday, claiming the lives of at least seven people in the south-eastern city of Chennai. Winds of close to 90 mph, combined with rainfall of up to 10 inches, more than the average monthly figure, battered the coastal state of Tamil Nadu after arriving from Thailand.
Thousands of people were evacuated from their homes, while schools and colleges were closed on Monday. All flights in and out of Chennai were grounded until Tuesday. Cyclone Vardah resulted in the deaths of at least 14 people when it struck southern Thailand last week but had been expected to weaken before making landfall in India.
"Vardah did not weaken significantly as expected," chief meteorologist for India's Skymet Weather, Manesh Palwat, told The Times of India. "The very severe cyclonic storm was still a severe cyclonic storm when it made landfall north of Chennai."
As well as bringing down hundreds of trees and collapsing cellphone towers, the storm is reported to have destroyed a large number of houses along the coast. The India Meteorological Department issued warnings for a storm surge of more than 3 feet. When it hit, Cyclone Vardah was the equivalent of a Category 1 tropical cyclone. It was the closest storm of Category 1 or higher to make landfall in Chennai in over 50 years, according to National Oceanic and Atmospheric Administration data.
Exactly a year ago torrential rain caused mass flooding that killed at least 269 people in Tamil Nadu.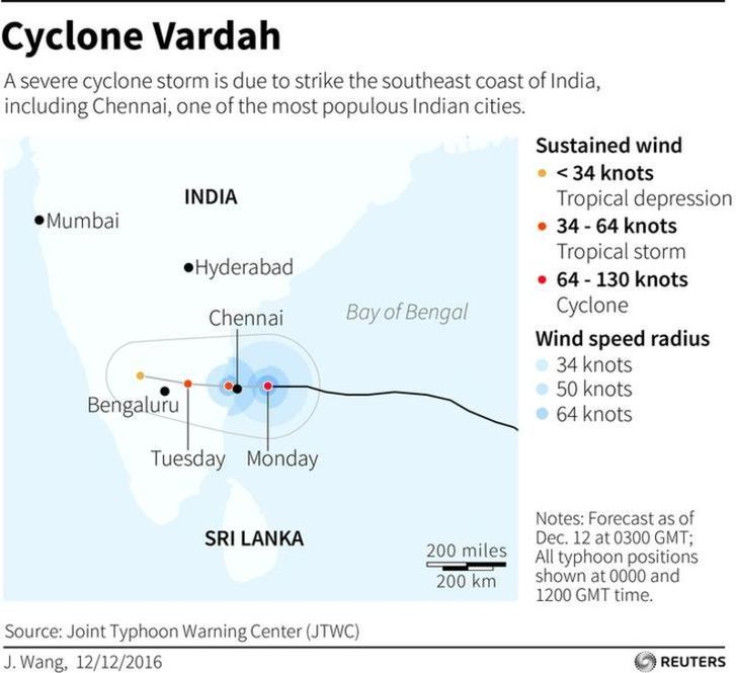 Cyclone is the term given to hurricanes or typhoons that originate in the Indian Ocean. The deadliest one on record occurred in 1970 when the Great Bhola Cyclone was estimated to have killed between 300,000 and 500,000 people in Bangladesh. Vardah is the strongest cyclone to hit the region since October 2014 when Cyclone Hudhud claimed 124 lives and caused over $3 billion in damages across eastern India and Nepal.
The worst of Cyclone Vardah was thought to have passed Chennai on Monday night with the storm expected to move west and emerge in the Arabian sea in the coming days.
© Copyright IBTimes 2023. All rights reserved.