Cyprus' Pitch To Troika Rejected, Monday Is Deadline To Accept Loan Terms Or Have Emergency Funds Cut Off; Russia Cool To Helping Nicosia; Island's Bank Closure Extended To Tuesday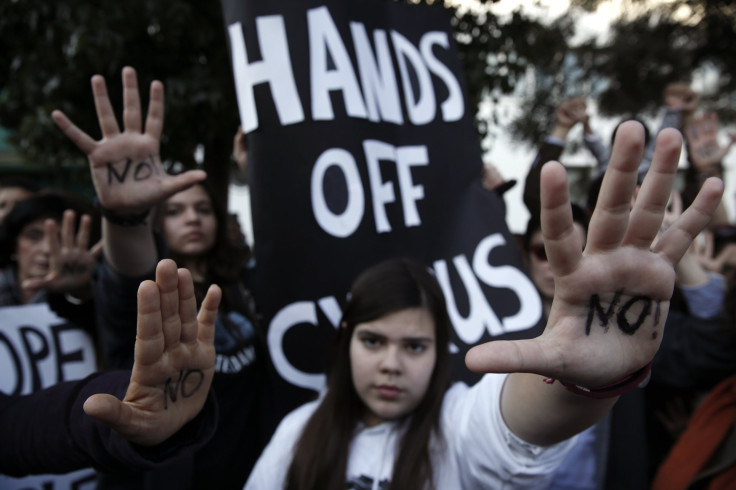 The European Union, or EU and its partners on Thursday gave Cyprus until Monday to accept their terms for a financial rescue or deal with the inevitable collapse of its banks and its likely ejection from the euro zone.
Meanwhile, Russia's government declined to accept Nicosia's offer of preferential access to natural gas deposits off the island's coast in exchange for a multibillion-euro loan. The most Moscow did Wednesday was signal a general willingness to consider extending the length of a €2.5 billion ($3.23 billion) loan it gave to Cyprus and to lower its interest rate.
Cyprus is appealing to Russia for help because many of Russia's richest citizens account for about €30 billion in deposits in Cypriot banks, which enjoy less strict oversight than European banks.
However, talks in Moscow between Cypriot and Russian financial officials continued Thursday.
In Nicosia, government officials on Wednesday drew up an alternative to the financial rescue package the International Monetary Fund (IMF) and the European Central Bank (ECB), also known as the troika, are offering, the Financial Times said. That offer includes taking money from Cypriots' bank accounts to raise €5.8 billion, to which the troika would add €10 billion as a loan.
Cypriot lawmakers on Tuesday soundly rejected that plan, which had been put together over last weekend and sparked a run on automatic teller machines. The rejection amounted to brinksmanship, and on Thursday the ECB upped the ante by warning that unless Cyprus accepts the original terms, the euro zone's central bank will cut off the emergency funding that is keeping the island's banks afloat.
The alternative plan from Cyprus, which the troika rejected Wednesday, entails a huge jump in the nation's already outsize debt: raising €4.2 billion by taking it from pension funds. The alternative plan also proposes assessing a 5 percent levy on deposits above €100,000 to raise approximately €3 billion. That 5 percent levy is lower than what the troika is demanding, a 6.75 percent or 9.9 percent levy, depending on the size of deposits. Finally, the alternative calls for closing the the nation's two biggest banks and segregating those banks' bad assets from their good assets.
Cyprus' Parliament -- which is clearly caught between the "rock" of lenders' demands and the "hard place" of voters' rage over being forced to pay for the financial sector's malfeasance -- met on Thursday to impose capital controls to block a bank run that's expected when the island's banks are allowed to reopen. Lawmakers also met to set rules for closing insolvent banks, the Wall Street Journal said.
© Copyright IBTimes 2023. All rights reserved.