Da Ya Think It's Sexy? Rare Ferrari Owned By British Classic Rocker Rod Stewart Could Fetch $1.3 Million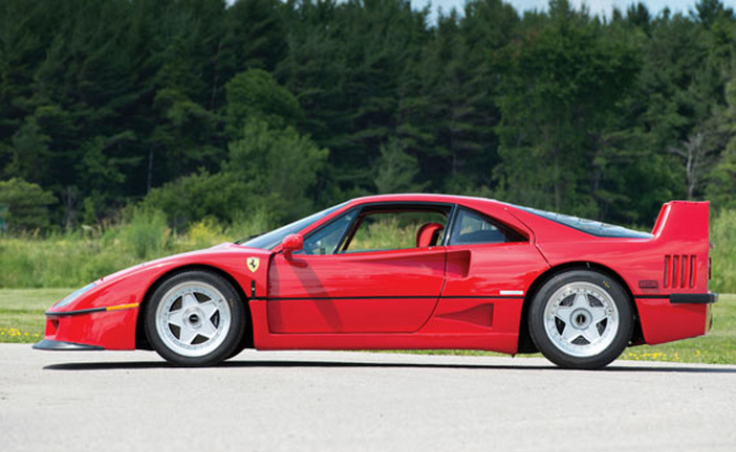 British rocker Rod Stewart is best known as one of the top-selling recording artists of all time, but the 69-year-old performer is also a big fan of sports cars -- and he takes good care of them.
Stewart's 1990 Ferrari F40, headed to the auction block next month in Burbank, California, may be the most pristine of the 1,315 F40s that were produced from 1987 to 1992.
"Having less than 7,900 original miles, this F40 is in excellent condition," boasts Auctions America, the Ontario-based classic car auction company hosting the Aug. 2 event. The company estimates the car could sell for up to $1.3 million..
Everything on the car is original, from the red fabric of the bucket seats to the wheels that still bear the perfectly etched Ferrari logo. Even the owner's manual and complimentary Ferrari luggage set are intact. If Stewart drove the car at all, it appears he did little more than short and fast runs up and down the Pacific Coast Highway.
The successor to the 288 GTO, the F40 was built to celebrate the Maranello, Italy, carmaker's 40th anniversary. The car was designed to give its owner the minimalist feel of a racing car, with only the barest of essentials. Gone is the sound system, interior carpet and glove box, with only the basic gauges to the engine's vital signs. The windows are made of plastic and the body is bolstered with carbon fiber, Kevlar and aluminum.
At the time, the F40 was the closest thing Ferrari made to a professional race car that it sold to the public. The racer's 2.9-liter twin turbocharged V-8 engine pumps out 478 horsepower and 425 pound-feet of torque. It zooms from 0 to 60 miles per hour in 3.8 seconds and was the first street-legal sports car to top 200 miles per hour, beating out the Porsche 959's top speed of 197 mph.
The F40 was the last Ferrari to be ordered and approved by company founder Enzo Ferrari, who died a year after the car went into production. The F40 had a sticker price of $400,000, or nearly $840,000 in today's dollars. But the car has been known to trade hands for over $1 million. Considering the condition of Stewart's F40, it could fetch the highest price ever paid for the model.
Ferrari is 90 percent owned by Italian automaker Fiat SpA (BIT:F).
© Copyright IBTimes 2023. All rights reserved.