Dallas Cowboy Draft Preview: Mark Barron, Fletcher Cox and Michael Brocker at the Top of the List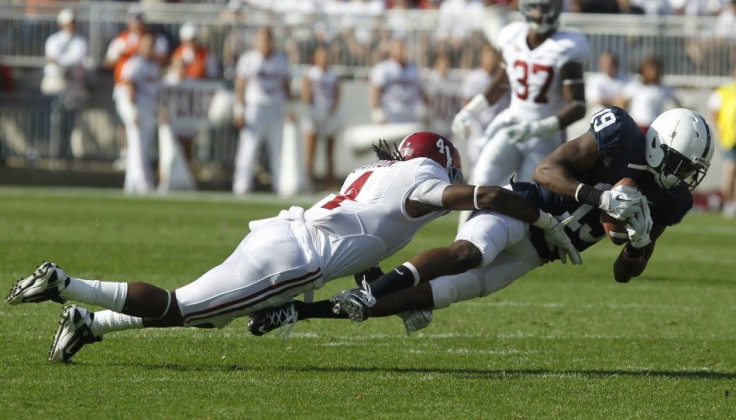 The Dallas Cowboys will be looking defensively in the first rounds of the 2012 NFL this week in New York City.
Thought they were a solid defensive team over the course of the regular season, placing 14 in yards against with 343.2 and 16 in points against with 21.7, defensive breakdowns cost them during their 1-4 finish that left them on the outside of the NFL playoffs last season.
That finish will ultimately force the Cowboys to look to the defensive side of the ball when they select at number 14 overall on April 26.
The most likely option for the Cowboys is Mark Barron a 6'1, 213 pound safety out of Alabama. He has the size and strength to play the NFL game right now and he is quick enough to make plays in coverage. Barron is highly sought after because he quarterbacked the Alabama defense last year. That defense is a complex, pro-style defense with multiple sets. That experience should prepare Barron for the next level.
The Cowboys could also target a player like Harrison Smith from Notre Dame. He and Barron are nearly identical from a phyical standpoint, but Smoth did not have quite as impressive a collge career as Barron did.
Gerald Sensabaugh, Mike Jenkins and Brandon Carr all have starting spots locked up in the Dallas backfield next season but the Cowboys could look for someone to push Brodney Pool for that final safety spot next season.
If the Cowboys don't do that, they will look to shore up the middle of their 3-4 defense. Kenyon Coleman and Jason Hatcher and Jay Ratliff do a nice, if unspectacular job for Dallas on the front end, but they may look to upgrade.
If they do, look for them to select Fletcher Cox from Mississippi State, Dontari Poe from Memphis or Michael Brockers from LSU to fill the void.
Brocker, a 6'5, 322 pound stud from LSU is an interesting potential choice for Dallas. Despite his size, he can play both the tackle and end spot in a traditional 3-4 defense. With long arms and a stout frame, Brocker lives on leverage. He is the kind of player who can eat up blockers inside to free up Dallas' talented linebackers to make plays.
Poe is a mountain of a man who led the combine with 44 reps bench pressing 225 pounds. He is 6'3 and weighs 346 pounds. He doesn't have flashy athleticism and will be hard pressed to make plays for himself, but for a team looking for a big body to occupy interior linemen Poe is exactly what the doctor ordered.
Cox would be a dream for Dallas if he fell to them at the 14th pick. Possibly the most talented interior lineman in the draft, Cox can create his own space on the line with an impressive arsenal of moves. But he is undersized, and had trouble dealing with double teams in college.
At 6'4 298 pounds, Cox could be a candidate to slide to the outside, especially in the Cowboys 3-4 look, something he did in college with some regularity.
Dallas might also find they want to look on the offensive side of the ball where they have several talented recievers in Miles Austin and Dez Bryant, both are injury prone and both have underperformed. While top wide reciever prospect Justin Blackmon will almost certianly be gone when they draft at 14, Michael Floyd from Notre Dame and Kendall Wright from Baylor will be available for them to select.
© Copyright IBTimes 2023. All rights reserved.