Dallas Cowboys Are Huge Betting Favorites For NFC East Title After Win Over Saints
Time is running out for the rest of the NFC East. By defeating the New Orleans Saints Thursday night, the Dallas Cowboys extended their first-place lead and made it increasingly difficult for any other team in the division to catch them in the 2021 season.
With five games left on the schedule, the Cowboys are 2.5 games ahead of the second-place Washington Football Team. Dallas is a -1000 favorite to win the NFC East at DraftKings Sportsbook, suggesting the Cowboys are all but certain to make the playoffs.
An overtime loss to the Las Vegas Raiders on Thanksgiving marked Dallas' third loss in four games. CeeDee Lamb, Amari Cooper and DeMarcus Lawrence all returned Thursday after missing time with either COVID-19 or injuries. The Cowboys had four interceptions in the 27-17 win over the Saints.
Washington has +1000 odds to surpass Dallas and claim the division title. The rivals are set to meet head to head in two of the Cowboys' next three games. Washington's chances of finishing in first place will greatly diminish if it can't take both matchups with Dallas. Washington is a short underdog Sunday in Las Vegas.
Washington won a historically weak NFC East last season with a 7-9 record. The team has the final wild-card berth in the Week 13 playoff picture.
The Philadelphia Eagles trail Dallas by three games and are given +1400 odds to become NFC East champions. The Eagles are seven-point favorites over the New York Jets Sunday.
The Cowboys blew out the Eagles 41-21 in Week 3. Philadelphia hosts Dallas in the regular-season finale.
The Eagles might have blown any chance of winning the division last week when they were upset by the New York Giants. Despite the 13-7 victory over Philadelphia, New York is still 3.5 games behind Dallas and a +4000 long shot to win its first division title in a decade.
A Week 15 road game against the Giants is sandwiched in-between the Cowboys' matchups with Washington.
The Cowboys beat the Giants 44-20 in Week 5. It was part of a six-game winning streak for Dallas, during which Dak Prescott played at an MVP level. Prescott ranks seventh among quarterbacks with a 101.7 passer rating and sixth with 288.2 passing yards per game.
The toughest game left on the Cowboys' schedule is a Week 17 matchup with the Arizona Cardinals at AT&T Stadium.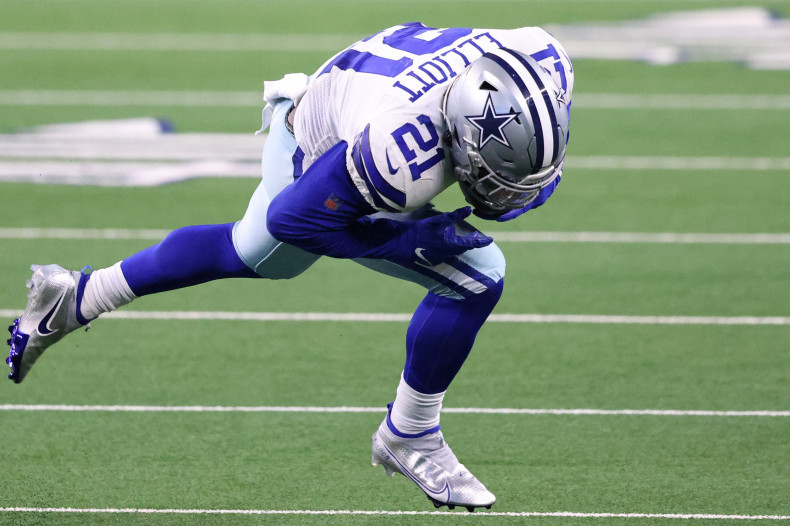 © Copyright IBTimes 2022. All rights reserved.