NFL Week 13 Picks Against The Spread 2021: Predictions ATS, Betting Odds, Matchups
The NFL Week 13 point spreads suggest the upcoming schedule will feature several one-sided matchups. Six teams are favored by at least a touchdown, including four betting lines north of nine points. Only one underdog is getting less than three points.
Here are picks against the spread for every game in Week 13, as well as updated betting odds. Betting lines come from FanDuel Sportsbook.
Dallas Cowboys (-4.5) at New Orleans Saints
In two matchups with Dallas since 2018, New Orleans has held Dak Prescott and the Cowboys to 23 total points. Dallas' defense is among the league's worst when it doesn't force turnovers. Only four teams have fewer giveaways than the Saints. Perhaps Taysom Hill and a returning Alvin Kamara can jumpstart the offense and put a scare into the Cowboys.
Prediction ATS: New Orleans
Minnesota Vikings (-7) at Detroit Lions
Almost every one of Minnesota's games has been close, including their 19-17 win over Detroit in Week 5. The Vikings' defense ranks 26th in opponents' yards per play and makes it difficult for Minnesota to win games easily. Even though the Lions can't find their way into the win column, Detroit has only been outscored by five points in its last three games.
Prediction ATS: Detroit
Arizona Cardinals (-7.5) at Chicago Bears
Assuming Kyler Murray is back, Arizona should win this game by double digits, which it has already done seven times. The Cardinals are averaging 30.8 points with Murray under center. The Bears haven't topped the 20-point mark in any of the four games during which Andy Dalton has received significant playing time.
Prediction ATS: Arizona
Indianapolis Colts (-9.5) at Houston Texans
This game could look similar to Indianapolis' 31-3 drubbing of Houston in Week 6. The Colts are 4-0 against the AFC's bottom-four teams, winning those contests by an average score of 32-17. The Texans are 1-6 against teams that have a .500 record or better, and five of those losses have come by double digits.
Prediction ATS: Indianapolis
Tampa Bay Buccaneers (-10.5) at Atlanta Falcons
This line is probably too high, given that Tampa Bay is still dealing with injuries to key defensive players. The Bucs have only one win by more than a touchdown since Week 8. The Falcons could stay competitive, just as they were in last year's 31-27 home loss to Tom Brady and the Bucs.
Prediction ATS: Atlanta
Philadelphia Eagles (-6.5) at New York Jets
It's hard to lay a touchdown with the Eagles since Jalen Hurts could potentially miss the game with a sore ankle. Upset by the Giants when they were seemingly on a path toward the playoffs, Philadelphia might be the most unpredictable team in football.
Prediction ATS: New York
Los Angeles Chargers (+3) at Cincinnati Bengals
Considering these two teams are pretty similar, the best bet is to take the points. The Bengals have won two straight games against a pair of mediocre opponents. The Chargers' offense ranks fifth in yards per play and is due to bounce back from a rough performance in Denver.
Prediction ATS: Los Angeles
New York Giants (+3) at Miami Dolphins
The Dolphins have given up 11.5 points per game during their four-game winning streak. The Giants are averaging 15.8 points over the last four contests. Tua Tagovailoa has completed more than 80% of his passes in two straight games. Daniel Jones has been unproductive for an extended period of time, averaging just 180.8 passing yards in the last five games.
Prediction ATS: Miami
Washington Football Team (+2.5) at Las Vegas Raiders
The Raiders have a four-day rest advantage after playing on Thanksgiving and Washington's Monday night game. Washington is 0-3 against the AFC West, averaging just 13 points per game. Washington is 0-3 on the road against teams with winning records.
Prediction ATS: Las Vegas
Jacksonville Jaguars (+13) at Los Angeles Rams
The Rams are in the playoff picture because they beat up on bad teams, and the Jaguars are probably the worst team in the AFC. Los Angeles has defeated the Giants, Lions, Texans and Bears by an average of 18 points. The Jaguars are averaging 11.4 points over the last five games, and they haven't scored more than 23 points in a single game all season.
Prediction ATS: Los Angeles
San Francisco 49ers (-3.5) at Seattle Seahawks
Russell Wilson continues to look like he came back too soon from his finger injury. The Seahawks are 0-3 since Wilson's return, scoring fewer than 16 points in each game. The 49ers have scored at least 30 points in three straight wins, finally looking like the contender they were predicted to be in the preseason.
Prediction ATS: San Francisco
Baltimore Ravens (+3.5) at Pittsburgh Steelers
The Ravens and Steelers don't typically have one-sided meetings. Baltimore's offense has been shaky of late with the Ravens scoring 17 points or fewer in four of their last five games. Expect Pittsburgh to perform much better than it did in an embarrassing 31-point loss in Week 12.
Prediction ATS: Pittsburgh
Denver Broncos (+10) at Kansas City Chiefs
Kansas City's offense still isn't running on all cylinders. Since scoring 31 points in a Week 6 victory at Washington, the Chiefs have topped the 20-point mark just once. Denver is third in opponents' passer rating, holding quarterbacks to a 58.6% completion rate.
Prediction ATS: Denver
New England Patriots (+3) at Buffalo Bills
The Patriots might end up being a bad matchup for the Bills. Bill Belichick's defense can force Josh Allen into making mistakes against arguably the league's top secondary. Buffalo has played its worst defensive games against teams that can run the ball effectively. New England's ground game is thriving, and Mac Jones completed 76.8% of his passes in November.
Prediction ATS: New England
Season Record: 86-91-3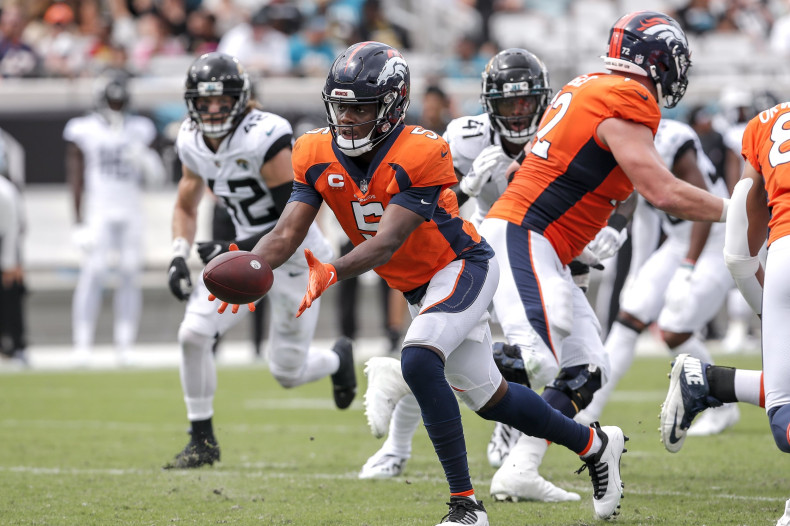 © Copyright IBTimes 2022. All rights reserved.