Dallas Mavericks Reportedly Interested In Los Angeles Lakers Guard Jeremy Lin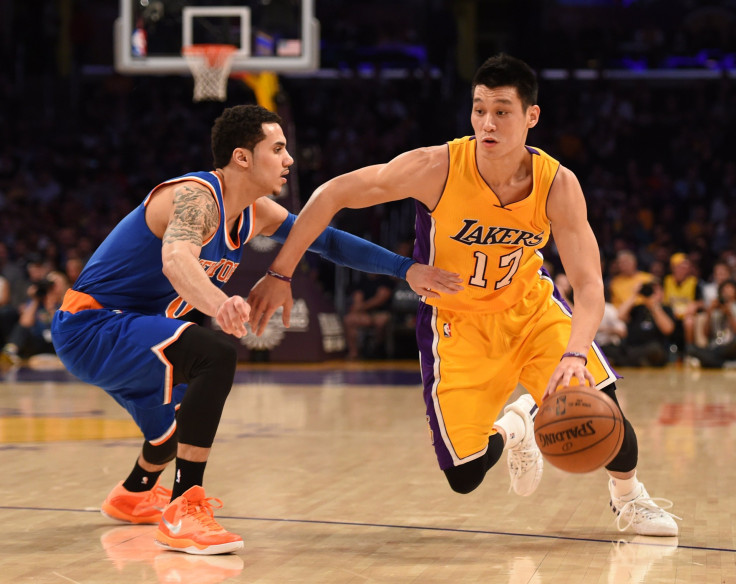 The Dallas Mavericks reportedly are seeking guard Jeremy Lin for their re-tooled roster. But after agreeing to a maximum contract with free agent center DeAndre Jordan, the team is limited in what it can offer Lin -- and is looking into sign-and-trade possibilities to land him.
There is reported mutual interest from both camps. The man who started the "Linsanity" phenomenon when he was with the New York Knicks reportedly believes a spot with the Mavericks would offer him an opportunity to restart his career. Dallas coach Rick Carlisle employs a pick and roll-heavy offense and is expected to maximize the alley-oop abilities of Jordan. Lin found a lot of success during his time with the Knicks when he was given free rein to run the offense with erstwhile big man partner Tyson Chandler.
The only snag to a potential Dallas-Lin partnership lies in the financial details. Dallas only has about $2.8 million in cap space to offer to Lin, who just earned $15 million in the final year of his back-loaded contract with the Los Angeles Lakers. After letting go of Monta Ellis and Rajon Rondo, the team is particularly thin at the guard position with only Raymond Felton and back-up Devin Harris contesting the ball-handling duties, which explains the interest in adding Lin.
"Lin, 26, sees the Mavericks as the best opportunity to reignite his career, especially with a chance to become the starting point guard, league sources told Yahoo Sports," Adrian Wojanrowski revealed in his latest article.
There is no scarcity in teams applying for the Harvard standout's services. Teams such as the Los Angeles Clippers, San Antonio Spurs, and Chicago Bulls are also lining up to add him. However, most of those teams mentioned already have a starting lead penetrator in their mix, which gives Dallas the best chance of nabbing him.
The possibility of Lin returning to the Lakers all but closed after the Lakers drafted Ohio State's D'Angelo Russell and following the unexpected rise of Jordan Clarkson. Lin endured a roller coaster season with the Lakers, where he saw his role quickly shrink from starter to bench guy to DNP-CD (did not play - coach's decision).
© Copyright IBTimes 2023. All rights reserved.