Daniel Cormier Wants UFC Fights With Brock Lesnar, Jon Jones Before Retirement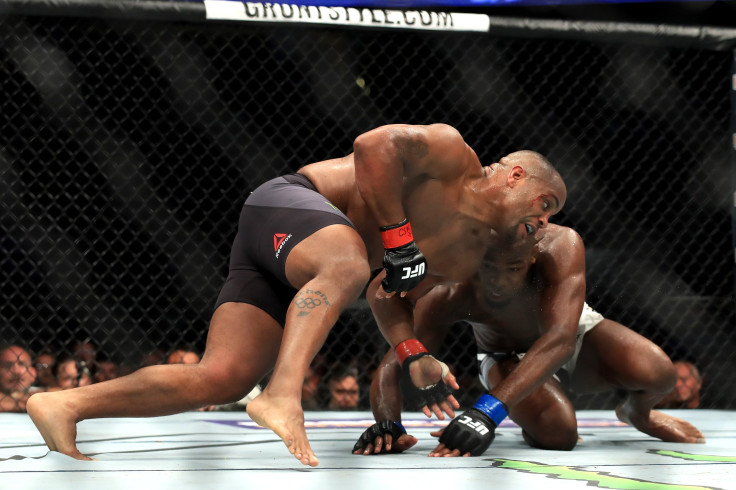 As Daniel Cormier prepares to fight for the UFC heavyweight title, he already has thoughts on how he wants his career to end. The current lightweight champion wants to face a couple of the biggest names in MMA history before he rides off into the sunset.
Cormier is scheduled to face Stipe Miocic on July 8 at UFC 226 for the heavyweight championship. On Monday, the 39-year-old told ESPN's Ariel Helwani that he hopes to have two more fights in the UFC. He'd like to face Brock Lesnar and Jon Jones.
It's easy to see why Cormier would want to face both Lesnar and Jones. Lesnar was the UFC's biggest draw before Conor McGregor and Ronda Rousey became household names. Jones is arguably the best fighter in MMA history.
Cormier and Jones have a long and controversial history. They've met inside the octagon twice with Jones being named the winner on fight night both times. But Jones' victory over Cormier last year at UFC 214 was eventually overturned because he tested positive for performance-enhancing drugs. Jones vs. Cormier II was initially supposed to take place in July 2016, but the fight was canceled because Jones failed his first PED test.
Jones was suspended for one year for his first violation. It's unknown when he'll be eligible to fight in the UFC again.
"This whole Jon Jones thing has been marred in controversy and never on my behalf," Cormier told CBS Sports last week. "So I can't let that dictate how I approach my career in any way, shape or form. I didn't do those bad things. I didn't do steroids. I didn't get taken out of a fight for steroid abuse once and test positive for steroids a second time. I didn't get, before the first fight, having rinky-dinky tests to start. There are so many reasons why I shouldn't be tied to him anymore and I've gotten back to the point now where it doesn't affect me."
Lesnar, like Jones, was suspended for using PEDs two summers ago. The former UFC heavyweight champion defeated Mark Hunt by unanimous decision at UFC 200 before the result was turned into a no-contest. It was Lesnar's first fight in four and a half years.
Despite currently being signed to WWE, Lesnar is reportedly looking to make a UFC comeback. There's speculation that he could be done with WWE in August, opening up the door for a fight perhaps in late 2018 or early 2019.
There was talk that maybe Lesnar would come back to fight Jones, but that was before Jones was suspended. A win for Cormier over Miocic could make him the most sensible challenger for Lesnar if he does indeed make a return.
© Copyright IBTimes 2023. All rights reserved.