Darren Wilson Should Be 'Commended' For Shooting, Killing Mike Brown, Rudy Giuliani Says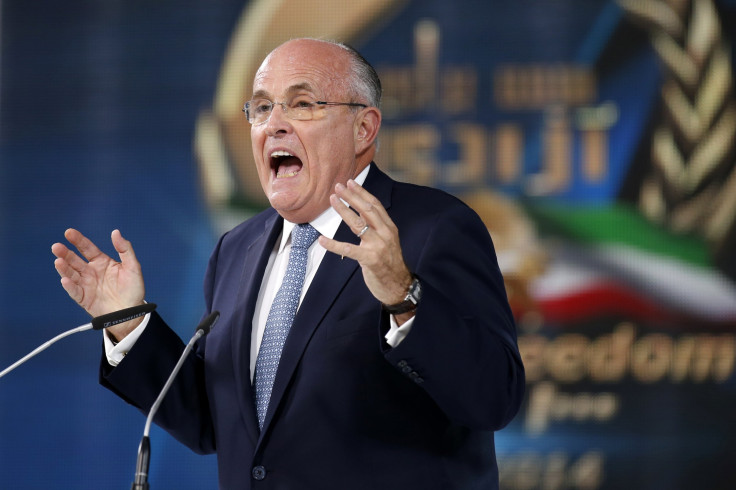 Not only was the lack of an indictment against former Ferguson police Officer Darren Wilson a just decision, but Wilson also should have been "commended" for shooting and killing Mike Brown, former New York City Mayor Rudy Giuliani said during an appearance Thursday on Fox News, according to Politico. The comment was the latest inflammatory remark from Giuliani on race and police-involved killings in America.
"A man committed a robbery, attempted to assault a police officer, and the police officer, to save his life, shot him," Giuliani said. "The police officer did his duty. The police officer should be commended for what he did. He did exactly what you should do."
Protests and rioting ensued in Ferguson both after the 18-year-old unarmed black man was shot and killed in August, and in November, when St. Louis County Prosecutor Bob McCulloch announced a grand jury declined to indict Wilson. Tensions heightened again early Thursday morning after two police officers were shot at Ferguson Police Department headquarters; the shooter was still on the loose as of Thursday afternoon and the officers were expected to recover from their injuries, St. Louis County Police Chief Jon Belmar told the Associated Press. The shootings occurred after Ferguson Police Chief Tom Jackson indicated he would resign. Jackson's resignation came following a report by the Justice Department that cleared Wilson of civil rights violations in the Mike Brown shooting but found the city's police department discriminated against blacks.
Giuliani has previously made comments on race and police that stoked controversy, including in November, when he lamented that the debate surrounding Ferguson focused on how police forces are disproportionately white instead of the crime committed by blacks.
"[T]he fact is, I find it very disappointing that you are not discussing the fact that 93 percent of blacks in America are killed by other blacks," Giuliani said to "Meet the Press" moderator Chuck Todd. "We're talking about the exception here [in Ferguson]." During his Fox News appearance Thursday, Giuliani also noted that the Justice Department findings were "an allegation" and not proof that the Ferguson Police Department engaged in any discrimination.
© Copyright IBTimes 2023. All rights reserved.