Dave Mirra's Wife Lauren Blackwell Responds To MTV 'Challenge' Star's CTE Diagnosis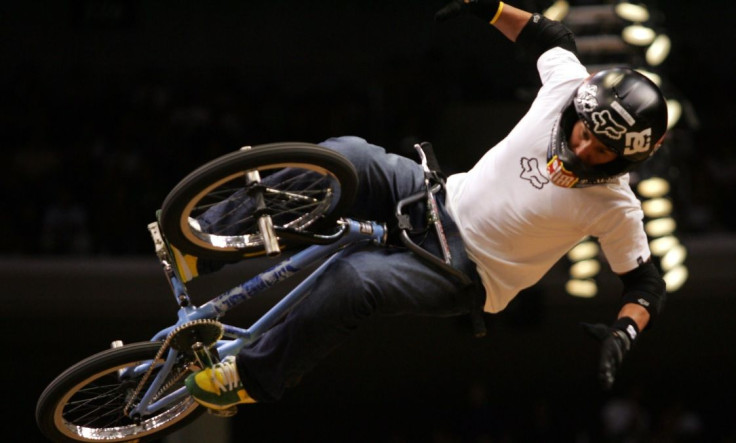 After BMX icon Dave Mirra was diagnosed posthumously with chronic traumatic encephalopathy (CTE), his widow, Lauren Blackwell, issued a statement Tuesday. Mirra died from an apparently self-inflicted gunshot wound Feb. 4.
"We would like to thank our family, friends and the overwhelming number of Dave's fans who have supported us during this difficult time," she said. "We ask for your continued support in honoring Dave's legacy and for your patience as we plan to create a platform for CTE awareness and research."
CTE is a degenerative brain disease that has afflicted former professional football and hockey players. It can have symptoms similar to Alzheimer's disease, like mood swings, rage and memory loss. It can lead to depression and lack of impulse control, USA Today reported. Even though scientists are trying to find a way to detect CTE in living people, it can only be definitively diagnosed after death.
Mirra, who died at age 41, reportedly exhibited the signature signs of CTE. "We still need to do more work to understand the staging," University of Toronto neuropathologist Lili-Naz Hazrati, who supervised the examination of the BMX star's brain, told USA Today.
The neuropathologist said Mirra's brain resembled that of other athletes who suffered from CTE. "I couldn't tell the difference," she told ESPN Tuesday, who reported the finding first. "The trauma itself defines the disease, not how you got the trauma."
The host of MTV's "The Challenge" is the first extreme sport athlete in whom CTE has been detected. It was his family who pushed for his brain to be analyzed for CTE.
Mirra's case confirms Hazrati's finding on CTE. "It validates what we have been thinking about brain injuries in boxers and football players," she said. "The key is brain injury. Regardless of how you get it, through BMX or hockey, you are at risk for this."
Follow me on Twitter @mariamzzarella
© Copyright IBTimes 2023. All rights reserved.