David Blaine Performs Magic For Baltimore Protesters After Underwater Stunt [PHOTOS]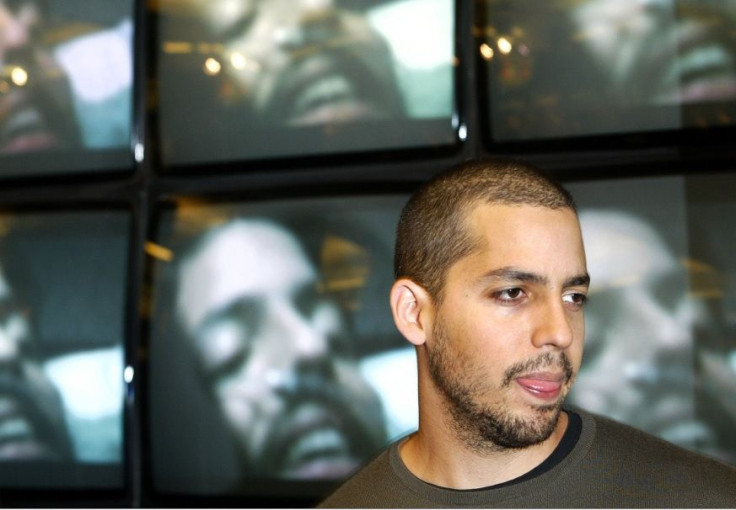 After apparently holding his breath underwater for 10 minutes, magician David Blaine took to the streets of Baltimore to perform tricks for protesters Wednesday. Hundreds of demonstrators had gathered there in the wake of the Monday funeral of Freddie Gray, the 25-year-old black man who died from injuries sustained during an arrest.
Blaine's trip to the city was apparently spontaneous, as he hadn't tweeted or promoted his appearance in advance. His last message on his official Twitter account showed him submerged in a tank of water with several fish swimming around him. His 798,000 followers were privy to the image, which bore this caption:
Protesters generally seemed excited by Blaine's free performance and shared pictures on Twitter. "It's a little bit awesome to imagine the moment David Blaine saw the news and thought, 'Gotta get down there and do some magic,' " one person wrote. "David Blaine is here in Baltimore, drawing a bigger crowd of youths with each trick," another added.
Blaine, 42, didn't bring his tank with him to Baltimore. Instead, he did card tricks for the crowd.
An old video of Blaine performing a trick for "Star Wars" legend Harrison Ford was recently unearthed. Originally filmed for the ABC special "Real or Magic," it's been gaining popularity on social media. In the clip, Ford, 72, holds a deck of cards. The magician tells him to pick a number and then to choose a piece of fruit from a bowl. When the trick is finished, the stunned actor jokingly says to the magician, "Get the f--- out of my house."
Blaine may have performed similar tricks for the young Baltimore protesters. The demonstrations Wednesday have been peaceful, which is a drastic change from the violent riots Monday night. Dozens of cars and buildings were burned. By the end of the day, 15 police officers had been injured and were taken to the hospital.
Follow me on Twitter @mariamzzarella
© Copyright IBTimes 2023. All rights reserved.