Debt Ceiling: Rubio Agrees Limit Must Be Raised, But Under One Condition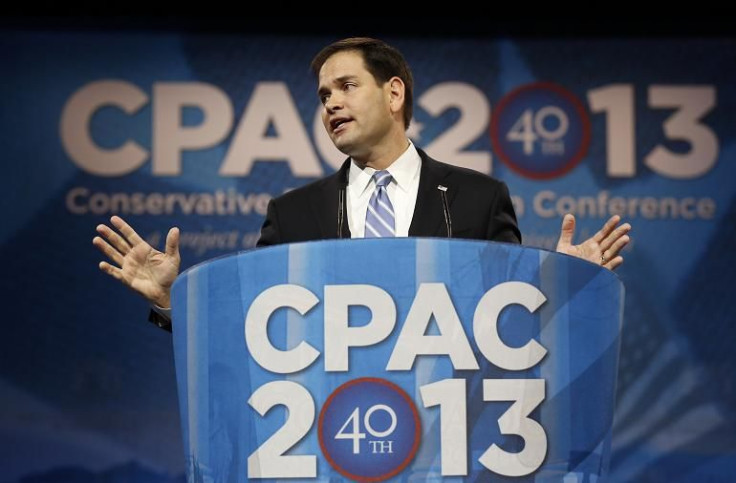 Time for the White House and Congress to hash out a plan to raise the debt ceiling is dwindling, with both sides agreeing that a solution must be found -- but both are refusing to cross the lines they've drawn.
In an effort to frame lawmakers' thinking when they return to Capitol Hill from recess, Treasury Secretary Jack Lew wrote on Monday House Speaker John Boehner, R-Ohio, saying the current extraordinary measures in place to enable government spending will be exhausted in mid-October.
"At that point, the United States will have reached the limit of its borrowing authority, and Treasury would be left to fund the government with only the cash we have on hand on any given day," Lew wrote, later explaining that extending the borrowing authority doesn't increase spending, but rather pays for already-approved spending.
If the $16.7 trillion debt limit isn't increased, the government will run the risk of not being able pay its bills on time. Congress returns Sept. 9 and first must work on a 2014 continuing resolution -- a temporary funding bill -- to keep federal agencies open after Sept. 30 and prevent a government shutdown. That means Congress will have about two weeks to come to an agreement to meet the debt ceiling deadline as predicted by the Treasury. Other experts have said the date when the government will hit its borrowing limit will fall sometime in November.
The fall debate is shaping up to be quite contentious. President Barack Obama and Democrats have said they will not negotiate on the increase, while Republicans are hoping to use the debt ceiling as leverage to do away with the Affordable Care Act, aka Obamacare.
"The president has been very clear," Lew told CNBC on Tuesday. "We're not going to be negotiating over the debt limit. Congress has already authorized funding, committed us to make expenditures. We're now in the place where the only question is, will we pay the bills that the United States has incurred?
"The only way to do that is for Congress to act, for it to act quickly," he added. "What we need in our economy is some certainty. We don't need another self-inflicted wound. We don't need another crisis at the last minute. Congress should come back and they should act."
Several Republicans have been taken to task on the issue by their constituents, while home in their districts over the recess.
Sen. Marco Rubio, R-Fla., said his constituents are concerned about his stance on raising the borrowing limit. In clarifying his position, the Tea Party-backed Republican said he supports raising the debt ceiling once more but under the condition that a plan is created for balancing the budget over the next decade so that no future increase in the limit is needed.
"That's not an unreasonable request," he said. "What I do think is unreasonable is that we continue to borrow and spend money without any regard for the future. What I do think is unreasonable is continue to borrow $34,000 a second to fund our government."
The senator added that a debt crisis means there is uncertainty about the future, which discourages people with access to money from taking risks.
"People are afraid to invest in the future until they know what the future is going to look like," Rubio said. "And they're not going to know what the future looks like until America deals with its debt problem. So this debt limit debate that we are going to have is an excellent and appropriate opportunity not just to raise the debt limit summarily but also to confront this debt problem once and for all so that our economy can get growing again, so that our middle class can get strengthened again and so that America can be better off."
© Copyright IBTimes 2023. All rights reserved.