Decline In Unions Weakens US Middle Class, Reduces Income Mobility Between Generations: New Research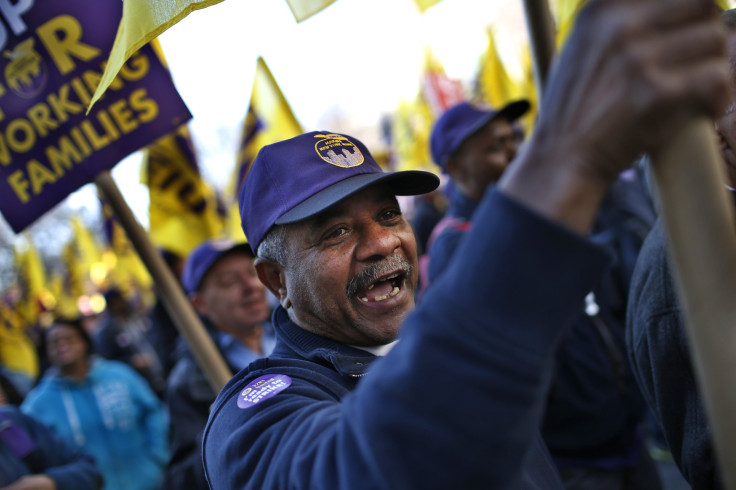 As unions crumble, the United States' embattled middle class may be brought to its knees. A working paper published this week by the National Bureau of Economic Research suggests a "strong, though not necessarily causal" link between the power of labor unions, the well-being of the middle class and income mobility between generations.
"If there is a causal component to the strong correlations we have found, the natural implication is that the U.S. will find it harder to address the problem of the diminishing middle-income group than if trade unions were as strong and viable as they were 30, 40 or 50 years ago," researchers Richard Freeman, Eunice Han, David Madland and Brendan V. Duke found. "A strong union movement is not simply sufficient for high levels of intergenerational mobility and middle-class membership, but it could be necessary."
Union members are disproportionately middle class -- that is, they earn incomes between 0.5 and 1.5 times the median income level. And as researchers noted, both groups have seen their ranks steadily diminish in the last few decades. From 1979 to 2012, union membership slid by more than one half, from 24 percent of all workers to 11 percent. Over that same time, the size of the middle class shrank by more than 10 percentage points, to 45 percent of the population.
Researchers also showed the offspring of union parents earn higher incomes than those from nonunion parents. That difference is especially pronounced among the children of parents who didn't go to college: Those with a union parent earned, on average, $6,300 or 16 percent more than those with nonunion parents: "This suggests that unions increase opportunity for children who need it most."
The paper also shed light on the positive "spillover" effect unions have on communities, finding that "unionism is highly correlated with the well-being of all children in area, not just children of union parents": Children who grow up in communities with higher union density earn greater incomes relative to their parents compared to children from communities with lower union density.
The apparent connection between the declining middle class and the withering labor movement has increasingly proven fodder for debate among economists -- not to mention other professors, pundits and politicians. Conservative critics argue the trends are not necessarily causally related.
© Copyright IBTimes 2023. All rights reserved.