Deere & Company (DE) Earnings Preview: Profit In Q1 Fiscal 2014 Hit By Weak US Farm Demand, Tough Comps Hit Overall Results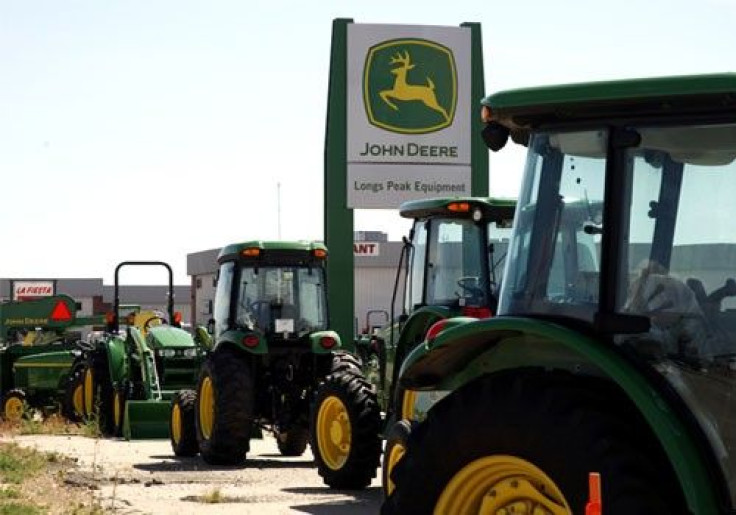 Deere & Company (NYSE:DE), maker of the iconic green farm tractors, is expected to see net income drop about 13 percent in its fiscal 2014 first quarter as weak crop prices slashed agricultural demand, offsetting a slight increase in construction equipment sales. Results also will suffer in comparison to an unusually strong year-earlier quarter.
Analysts expect the Moline, Ill., manufacturer, which reports fiscal 2014 first-quarter results Wednesday before markets open, to book net income of $562.87 million, or $1.55 per share, compared with $649.70 million, or $1.65 per share. Excluding one-time events, earnings per share will be $1.52 compared with $1.65.
Revenue will decline 2.5 percent to $6.62 billion from $6.79 billion in the year-earlier November-through-January period.
"We're coming off a major bull market," said William Blair & Co. analyst Lawrence De Maria. "Prices are lower and the market is slowing."
The fate of John Deere, one of the largest manufacturers of agricultural and construction equipment, has always been tied to North American farmers -- who have had a tough first fiscal quarter following a positive 2013.
After a major drought in 2012, farmers received large insurance payments and spent accordingly. In the first quarter of last year Deere's earnings jumped 26.9 percent from the same period a year earlier.
But in the past few month the price of crops such as soybeans and wheat fell due to a global oversupply. Lowering demand for ethanol hasn't helped corn prices, either. Cash is short, and farmers simply aren't buying what they did last year.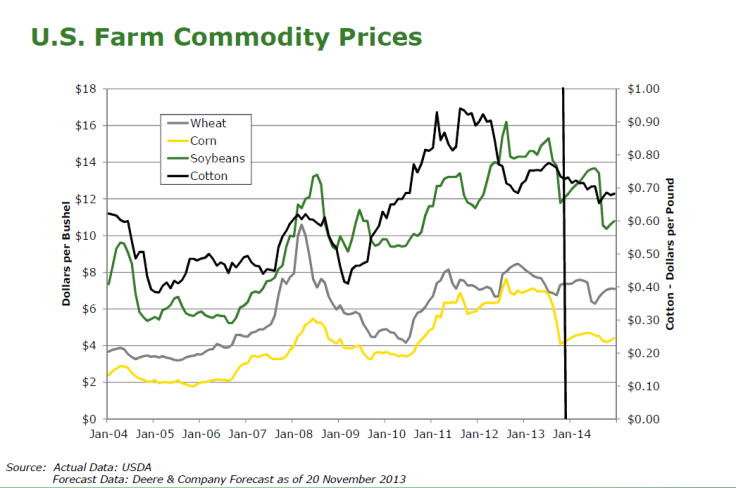 Meanwhile, rules took effect in January that made farmers less likely to purchase equipment.
Starting in 2014, American and European governments have new regulations on emissions on certain types of engines. The environmentally friendly versions are more expensive to manufacture, and these costs get passed on to customers. Meanwhile, a certain section of IRS code that once allowed farmers up to $500,000 of tax deductions from equipment purchases has been changed to just $25,000 -- another deterrent to purchasing that took effect this year.
Though this didn't bode well for January, it probably caused a spike in December sales -- as customers sought to "pre-buy" equipment before the more expensive versions hit the market.
Analysts from Goldman Sachs wrote in a note that this might result in a "near-term upside" for Deere, but it isn't enough to offset declining farmer returns and high levels of inventory at company dealers. Plus, it's likely that farmers bought more equipment than they needed at the time, which doesn't augur well for the rest of the year, either.
The company also has a large construction sector, which is in better shape, but still presents a challenge.
"It's going to be difficult to say, because the weather was so bad, and their construction business is really all North America," said Adam Fleck of Morningstar. But the big picture for construction in the Novermber-through-January fiscal quarter is likely to be positive, as the American economy edged slowly forward.
"Deere's construction machinery business will benefit from improved U.S. construction spending in the near term," wrote Fleck in an note.
The company mainly operates in the United States and Canada but also has substantial operations abroad, which means economic and political changes in South America and Europe are keenly felt.
"If you look at the sales in Brazil for January, they were down sharply from a year ago," said Fleck, citing a recent jump in Brazilian interest rates after government-run financing in the past few months.
Meanwhile, Europe represents about 20 percent of Deere's revenue and could also make a mark on sales in the company's fiscal first quarter.
"While European economic weakness does not present a critical risk for Deere, renewed global headwinds could lead to equipment sales declines, dealer inventory destocking and credit challenges for Deere's financial services industry," wrote Fleck in a Nov. 20 note.
Deere's first quarter of fiscal 2014 is not likely to be its last challenging quarter of the fiscal year.
"It's looking under pressure," said Eli Lustgarten, a senior research analyst at Longbow Securities. "The expectation is that the year will become more problematic as it goes on."
© Copyright IBTimes 2023. All rights reserved.