Delhi Gang-Rape Aftermath: Right-Wing Party Hands Out Knives To Women For Self-Defense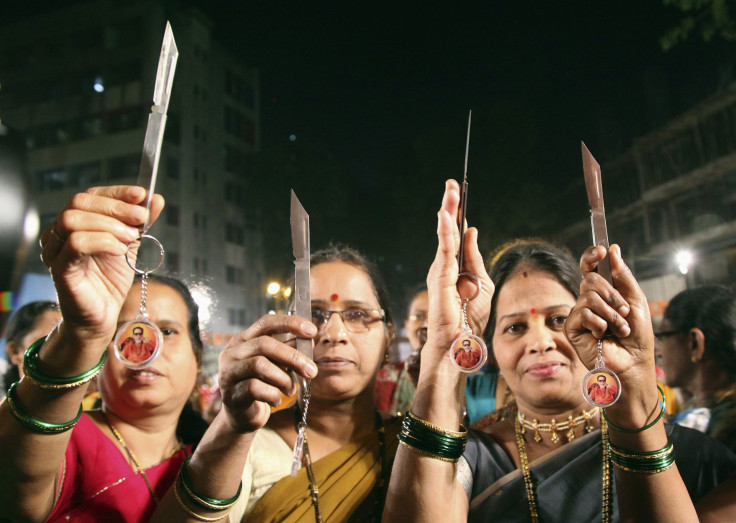 A far-right, nationalistic political party in India has taken an old-fashioned, low-tech step to protect women from rape and sexual assault – they are providing kitchen knives and chili powders as a defensive weapon.
The controversial, right-wing Shiv Sena has handed out the items to women in Mumbai. one month after the death of a gang-rape victim in Delhi galvanized a national movement to protest India's abuse of its women.
According to Reuters, officials of Shiv Sena, which is allied to the principal opposition party, Bharatiya Janata Party (BJP), distributed 21,000 knives which three-inch blades. They plan to hand out 100,000 in total. (They also provided bags of chili powder, which are designed to be thrown into the eyes of would-be attackers, like a cheaper form of Mace).
"This is a symbolic gesture," said Shiv Sena spokesman Rahul Narvekar.
"It's only to pass a signal to eve-teasers [sexual predators], anti-social elements and perpetrators of crime against women that women are empowered and they can take care of themselves."
Ajay Chaudhari, a Shiv Sena member who is running the knife give-away, reportedly told the party's own newspaper Saamana: "Don't be afraid of using this knife if someone attacks you. We have set up a team of nine advocates to protect you from any potential court cases that may arise."
Agence France Presse reported that Chaudhari explained to supporters: "The way you cut vegetables, cut the hand of the person who touches you the same way."
Given the massive publicity given to the Delhi rape case and subsequent stream of protests, women who take the law into their hands against rapists will likely gain much sympathy from a weary public. Indeed, a government commission that studied ways to reduce violence against women suggested last week that females who kill their rapists should be qualified to plead self-defense.
However, local police in Mumbai are concerned about the sudden influx of knives in circulation and threatened to take legal action against the Shiv Sena party.
According to The Asian Age, a Mumbai police spokesperson named Ambadas Pote said: "We will examine the knives and study the issue before initiating any legal proceedings."
Shiv Sena is an extremely polarizing entity in India -- founded by the late Bal Thackeray, the party had long campaigned for the rights of ethnic Maharashtrians in Mumbai in opposition to migrants from other parts of India. Later it embraced a pro-Hindu nationalist position to appeal to a national constituency.
Shiv Sena, which espouses a virulently anti-Muslim, anti-Pakistani and anti-Western philosophy, has been involved in many incidents of intimidation and even physical violence over the decades.
Meanwhile, a blogger for Avaaz, a global human rights activist organization, warned that rape is the fastest growing crime in India and that the country needs to completely overhaul its mindset regarding women.
Alaphia Zoyab said that incidents of rape have soared by 875 percent over the past forty years.
"Last month, a survey showed that 92 percent of men in Delhi knew someone who had harassed or sexually assaulted a woman," she wrote.
"The good news is we know what can work to change people's attitudes. Huge education drives have slashed HIV infection rates in this country and across the world…. India has shown it can conquer seemingly insurmountable problems - take polio, which was almost eradicated in two years. Now it's time to harness the outrage over what happened on that Delhi bus to cure the epidemic of violence against women."
FOR FREE to continue reading
✔️ Unlock the full content of International Business Times UK for free
offer available for a limited time only
✔️ Easily manage your Newsletters subscriptions and save your favourite articles
✔️ No payment method required
Already have an account?
Log in
© Copyright IBTimes 2023. All rights reserved.