Delhi Gang-Rape: PM Appeals For Calm, As Victim's Health Worsens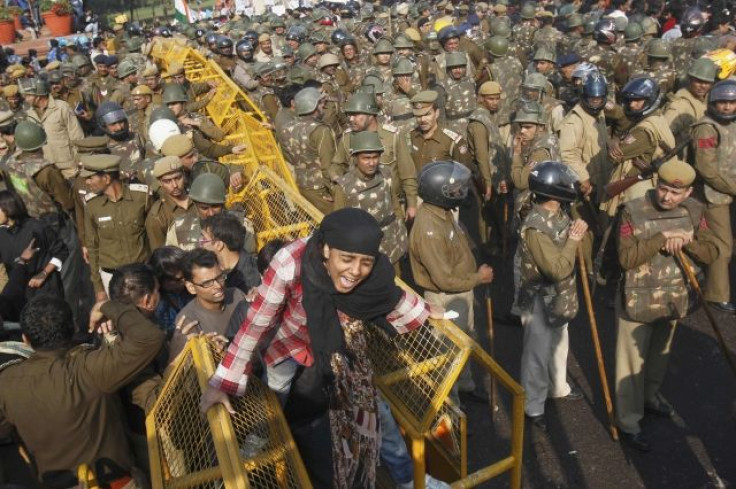 The prime minister of India pleaded for calm Monday, more than a week after the gang-rape of a young Delhi woman sparked protests across the country.
In a televised address, Manmohan Singh declared: "I assure you we will make all possible efforts to ensure security and safety of women in this country," noting that he is the "father of three daughters."
"We will examine without delay not only the responses to this terrible crime but also all aspects concerning the safety of women and children and punishment to those who commit these monstrous crimes."
Singh added: "We are all joined in our concern for the young woman who was the victim of a heinous crime In Delhi. There is genuine and justified anger and anguish at this ghastly incident. We are constantly monitoring her medical condition."
But the premier asserted that violence was not called for.
"I seek the cooperation of all sections of the society to help us in this endeavor and maintain peace," he added.
Home Minister Sushilkumar Shinde vowed the alleged rapists, six of whom have already been arrested, woud not escape justice.
"I will take action and I will not spare anyone," he told a television audience.
Delhi is in a virtual lockdown in response to violent clashes between demonstrators and security forces that have injured scores of people. Police have sealed off major thoroughfares leading to prominent government buildings, including Rashtrapati Bhavan, the president's residence, while the Delhi Metro system closed nine stations to block demonstrators from entering the capital's center.
A Delhi police officer who was badly beaten during a melee is now in critical condition.
Meanwhile, the condition of the 23-year-old rape victim has deteriorated due to internal bleeding, according to the doctors treating her at the Safdarjung Hospital in Delhi.
"Her condition is bad and serious compared to yesterday," said P.K. Verma, head of the intensive acre unit, according to Indian media.
"She continues to be critical but her kidneys are making urine and [her] lungs are fine. She is conscious and communicating."
Medical Superintendent Dr. B. D. Athani told the Press Trust of India: "She showed some tendency for internal bleeding last night. In simple terms, she has reduced capacity for coagulation… She is not as good as on Sunday. She continues to be on ventilator support."
The woman has also received psychiatric counseling, according to a hospital doctor named Rastogi of the Psychology Department.
"She has not shown any anxiety or depression," he said.
The victim was brutally assaulted Dec. 16 by at least four perpetrators while riding on a private luxury bus with a male companion. The culprits – who were reportedly intoxicated -- then beat and tortured the girl and her friend and threw them out into the streets naked.
Under criticism from both the public and government, two assistant commissioners of the Delhi Police have been suspended for the police's failure to stop the bus at various checkpoints. Three other policemen were suspended earlier.
Protests continue in Delhi and elsewhere, with anger focused not only on the rapists, but on the police and criminal justice system.
Singh's plea for calm was also mocked.
"It is just lip service and it won't work anymore. We want action," Abhijit Sinha, a Delhi University student and protester, told Indian media.
Another protester, a student named Kanika, declared: "We want justice and safety of women. The government should make strict laws that acts as a deterrent."
Kavitha Krishnan of the All India Progressive Women's Association vowed to maintain the protest campaign despite police blockades.
"We will continue with our protests 'til concrete steps are taken," she said.
Opposition lawmakers also criticized Singh for waiting more than week before speaking publicly about the case.
In a statement, the Bharatiya Janata Party's spokesman Prakash Javadekar said: "The prime minister's statement does not inspire any confidence in the people. It has come too late and is too little. People want tougher laws and time-bound action. The government has failed to gauge the mood of the people."
He also demanded that parliament call a special session to pass tougher laws against men who assault women.
"The leader of [the] opposition in [the] Lok Sabha [lower house of parliament] Sushma Swaraj has suggested a way forward to the government by saying the prime minister should call an all-party meeting and hold a special session. The session can be of just five days," he said.
© Copyright IBTimes 2022. All rights reserved.
FOLLOW MORE IBT NEWS ON THE BELOW CHANNELS