Delhi Gang-Rape: Protests, Anger, Condemnation Sweep Across India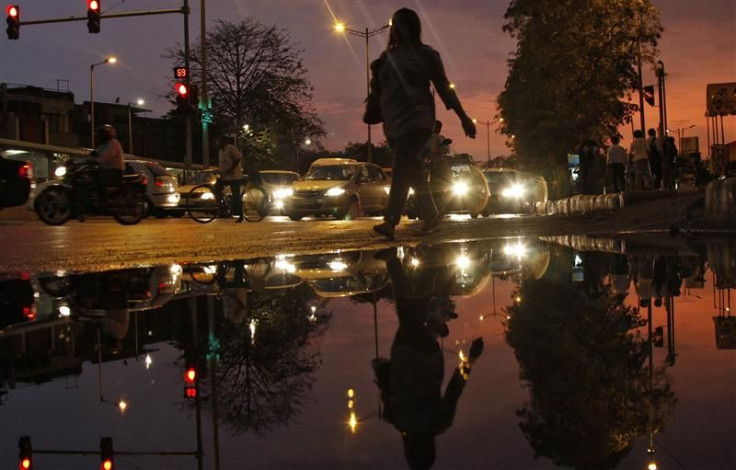 The brutal gang-rape of a young woman on a bus in South Delhi has sparked protests, outrage, condemnation and self-reflection across India.
Police, who have made a number of arrests in Sunday night's assault, are now contending with women's rights activists and others protesting the poor safety of women in Delhi.
According to reports in Indian and UK media, Delhi police dispersed a crowd of demonstrators, mostly college students, with water cannon. The protesters tried to tear down barricades outside the residence of Delhi's Chief Minister Sheila Dikshit.
They carried placards and chanted: "We want equal rights for women."
"I feel it is sick what is happening across the country. It is totally sick, and it needs to stop," a female protester named Smitha said, according to the Guardian.
A university student named Aditi Roy, who blocked traffic, angrily declared: "We want to jolt people awake from the cozy comfort of their cars. We want people to feel the pain of what women go through every day."
Female MPs from the opposition Bharatiya Janata Party staged a separate protest outside parliament, while hundreds of other activists held a rally outside Delhi's police headquarters, demanding swift justice and better policing.
Some lawmakers have even called for the death penalty for convicted rapists.
On Sunday evening, a 23-year-old Indian medical student was traveling with a male companion on a private bus when she was sexually assaulted by at least four men, including bus company staff.
The pair, who were returning home from an evening at the cinema, were beaten, stripped and tossed out of the vehicle. She is now at the Safdarjung Hospital in Delhi, listed in critical condition.
The bus where the crime occurred reportedly passed through several police checkpoints.
"We have been screaming ourselves hoarse demanding greater security for women and girls. But the government, the police and others responsible for public security have ignored the daily violence that women face," said Sehba Farooqui, a women's rights activist.
The head of the ruling Congress Party, Sonia Gandhi, the most powerful person in India, visited the hospital on Tuesday evening and met with doctors and the victim's family.
Gandhi, daughter-in-law of Indira Gandhi and widow of Rajiv, later vowed the government will take the "strictest possible measures" to prevent such incidents.
In letters to senior government officials, Gandhi wrote: "Such violence and criminality needs not only to be condemned, it calls for a concerted effort to fight it. ... It is a shame for us, who are responsible for the security of our cities that a young woman can be raped in a moving bus in the capital of the country and flung onto the street."
She added: "It is imperative that the police and other agencies concerned are sensitized to the dangers that our daughters, sisters and mothers face every day. The security agencies must be motivated, trained and equipped to deal with the menace. I hope [the Delhi government] will initiate immediate action to remedy the situation."
Even the biggest film star of Bollywood weighed in.
On his Facebook account, Amitabh Bachchan asked, "What is going wrong with our society, our people?" adding that vigilante justice may be necessary to deal with such atrocities.
Prime Minister Manmohan Singh called the incident "a heinous crime. It is very upsetting," before a group of female MPs.
Under Singh's direction, Home Minister Sushil Kumar Shinde, who is responsible for law and order in Delhi, promised that steps will be taken to beef up police patrols in the evening, while bus and transport employees will face more security and background checks.
"Private buses, when not in use, must be parked with their owners and the photo identification of the driver and staff of every bus would have to be displayed, and the police would enforce this," he said.
"Buses with dark windows and curtains would be impounded."
Delhi police have come under fire not only from the public and lawmakers, but also from the judiciary.
The Delhi High Court, which ordered police to submit a report on the sexual assault, asked: "How did the bus cross five police checkpoints without anybody stopping it? Those responsible have to be punished."
On a broader scale, Indians are questioning the society's treatment of women – rapes, burnings, physical abuse, torture and murder are widespread across the nation. Female fetuses are often aborted in favor of males.
Investigations into violence against women are often slow, and prosecution sometimes never occur, leading men to act with impunity.
"We have thousands of rape cases pending in different courts of the country. As a result, there is no fear of law," said Ranjana Kumari, a sociologist at the New Delhi-based Centre for Social Research, according to the Guardian.
© Copyright IBTimes 2023. All rights reserved.
FOLLOW MORE IBT NEWS ON THE BELOW CHANNELS