Delhi Gang-Rape Verdict: All 4 Suspects Found Guilty Of Rape And Murder; Sentencing Likely On Wednesday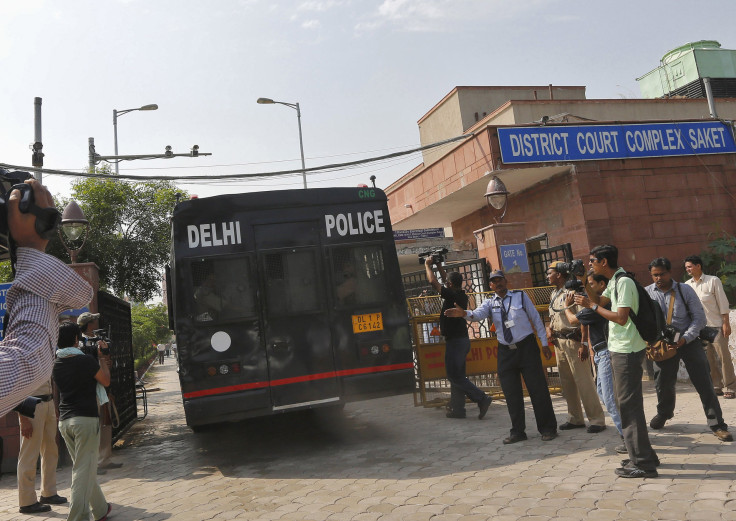 Four men charged in the brutal gang-rape of a woman on Dec. 16 on board a bus in India's capital, New Delhi, were convicted on Tuesday on charges of rape and murder, after a seven-month trial in a special court that was set up in response to nationwide protests and global media attention.
The convicts -- Mukesh Singh, Pawan Gupta, Vinay Sharma and Akshay Thakur -- had pleaded not guilty, and the court is expected to hand down a sentence on Wednesday. Three of the accused, excluding Mukesh Singh, had argued that they were not on the bus on the night of the crime, while Mukesh Singh said he was on board the bus but denied his involvement in the crime, Indian media reported.
Ram Singh, the prime suspect in the case, and the brother of Mukesh Singh, was found dead in prison, on March 11, while the trial was under way. An underage suspect was convicted on Aug. 31 and was sentenced to three years in a reform facility -- the maximum punishment for a juvenile under Indian law.
The victim succumbed to her injuries while receiving medical treatment in Singapore, two weeks after the tragedy.
The woman's parents have called for the death penalty for all the suspects. "We have got financial assistance from the government, people have supported us. But a strong punishment will give justice to my daughter," the victim's mother told CNN-IBN in an interview, prior to the verdict.
The prosecution had argued that DNA samples procured from the crime scene supported their case and the dental prints of the suspects matched the marks on the victim's body, First Post reported.
Meanwhile, defense lawyer A.P. Singh claimed that the trial was unfair and that the court's verdict was influenced by political pressure, First Post reported.
"This (is) a clear case of acquittal. But due to political pressure they have sentenced. The accused are poor powerless people, which is why they have been found guilty," Singh said.
The incident forced the government to revise India's rape laws, and on March 20, a new bill was approved to include harsher punishments for sexual crimes, including the death penalty for repeat offenders and for rape attacks that lead to the victim's death.
© Copyright IBTimes 2023. All rights reserved.
FOLLOW MORE IBT NEWS ON THE BELOW CHANNELS